Atrium Medical Center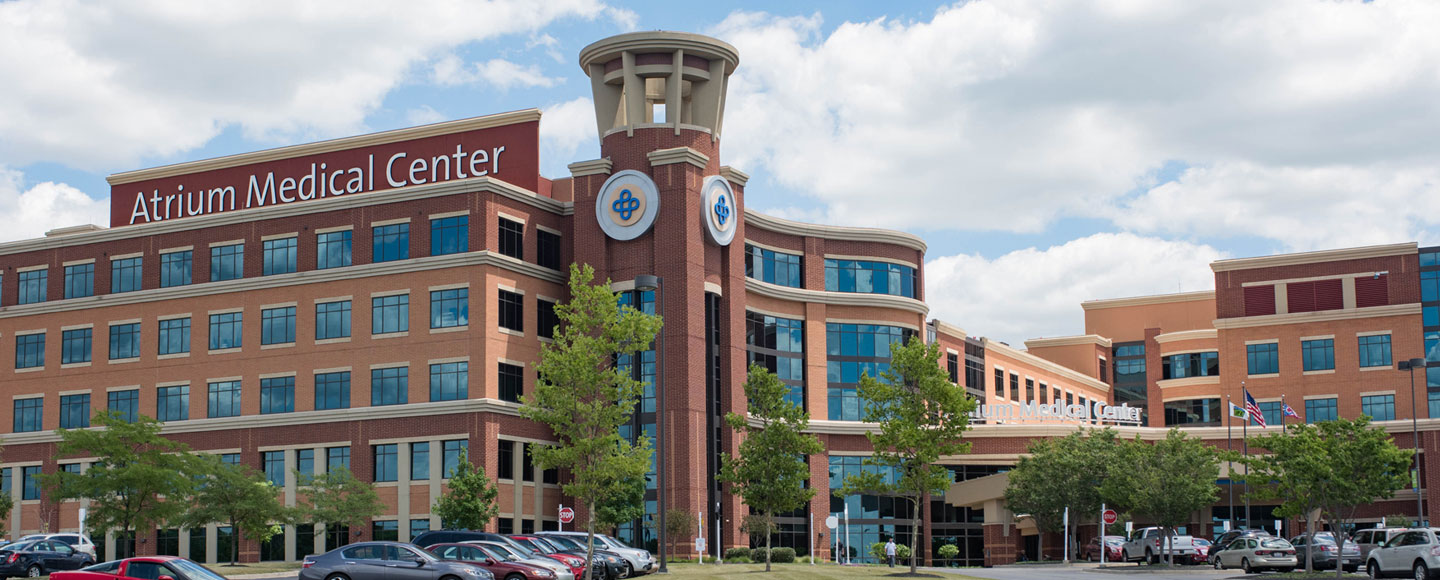 Atrium Medical Center has served Southwest Ohio from its Middletown campus since 1917. We offer a wide range of advanced, innovative care from our 260-acre campus. Leading national organizations regularly recognize our quality care. We are Warren County's only Level III Trauma Center and Primary Stroke Center, providing immediate assessment and care for seriously injured or ill patients, and the only accredited Chest Pain Center in Warren County. We offer maternity, cancer, orthopedics, and heart care, and much more. Atrium Medical Center was named among America's 100 Best Hospitals by Healthgrades. We have achieved Magnet® Recognition, nationally recognized as the highest standard for excellence in patient care.
Visitors
Whether you're a patient, family member, friend, or business partner, we welcome you to our campus. Get more information on parking, how to contact patients, rules for visiting patients, and the amenities we offer, including our food and dining options.
Our Providers
Whether you're looking for a primary care provider or a specialist, our physicians and advanced practice providers offer you advanced, compassionate care in a wide range of specialties. You'll find them conveniently close to home and work.
See all providers
Awards
We're proud to make a difference in our community. When others recognize our achievements, we know we're fulfilling our mission. We're grateful for the awards and recognition our hospital and people have earned.
See all awards
Friday, February 10, 2023
A mammogram is the best way to detect breast cancer early
Saturday, February 11, 2023
Pregnant and planning on an unmedicated birth? This class is for you.
Saturday, February 11, 2023
A mammogram is the best way to detect breast cancer early
Atrium Medical Center Diabetes Education Program Merits ADA Recognition
Register now for free Diabetes Education Class on June 23
MIDDLETOWN, Ohio (June 20, 2017): The prestigious American Diabetes Association Education Recognition Certificate for a quality diabetes self-management education program was awarded to Atrium Medical Center in May.
The Diabetes Wellness Center of Atrium Medical Center was originally recognized in June of 2000. American Diabetes Association believes Atrium's program offers high-quality education that is an essential component of effective diabetes treatment.
The Association's Education Recognition Certificate assures that programs meet the National Standards for Diabetes Self-Management Education Programs. Programs that achieve recognition status have a staff of knowledgeable health professionals who can provide participants with comprehensive information about diabetes management.
"The process gives professionals a national standard by which to measure the quality of services they provide," said Carolyn Fogarty, manager of the Diabetes Wellness Center of Atrium. "It assures the consumer that he or she will likely receive high-quality service."
Education Recognition status is verified by an official certificate from American Diabetes Association and awarded for four years.
Atrium's Diabetes Wellness Center is offering a free Diabetes Education Class from 10 to 11 a.m. Friday, June 23, 2017. The class will be held at the Diabetes Wellness Center, located at 4218 Grand Ave., Middletown, OH 45044. Space is limited and reservations are required. Please call (513) 727-5475 to reserve your space today.
The Diabetes Education Class is ideal for people who are newly diagnosed with diabetes or who want to learn more about how to manage their diabetes.
Diabetes educators will lead the class and address what is diabetes; how it's diagnosed; goals for blood sugar, blood pressure and blood fats; long-term complications of diabetes; treatment options; and healthy eating tips.
According to the American Diabetes Association, there are 29.1 million people or 9.3 percent of the population in the United States who have diabetes. While an estimated 21 million have been diagnosed, unfortunately, 8.1 million people are not aware that they have this disease. Each day more than 3,900 people are diagnosed with diabetes. Many will first learn that they have diabetes when they are treated for one of its life-threatening complications – heart disease and stroke, kidney disease, blindness, and nerve disease and amputation.
Overall, the risk for death among people with diabetes is 50 percent greater than that of people of similar age but without diabetes, according to the Diabetes Association.
The American Diabetes Association is the nation's leading nonprofit health organization supporting diabetes research, advocacy and information for health professionals, patients and the public. Founded in 1940, the Association conducts programs in communities nationwide.
Atrium Medical Center is a full-service hospital and Level III Trauma Center located conveniently along the Interstate 75 corridor at exit 32, One Medical Center Drive in Middletown, between Cincinnati and Dayton. The hospital employs more than 1,500 people in full-time, part-time and on-call positions. Atrium is operated by Dayton-based nonprofit Premier Health.
*The current wait time is an estimated wait time before a person sees a physician and is not a guarantee. It is based on patient activity (how many patients are being treated and the severity of their injuries) within the last hour, and it is subject to change at any moment. If you are experiencing an emergency, call 911.