Atrium Medical Center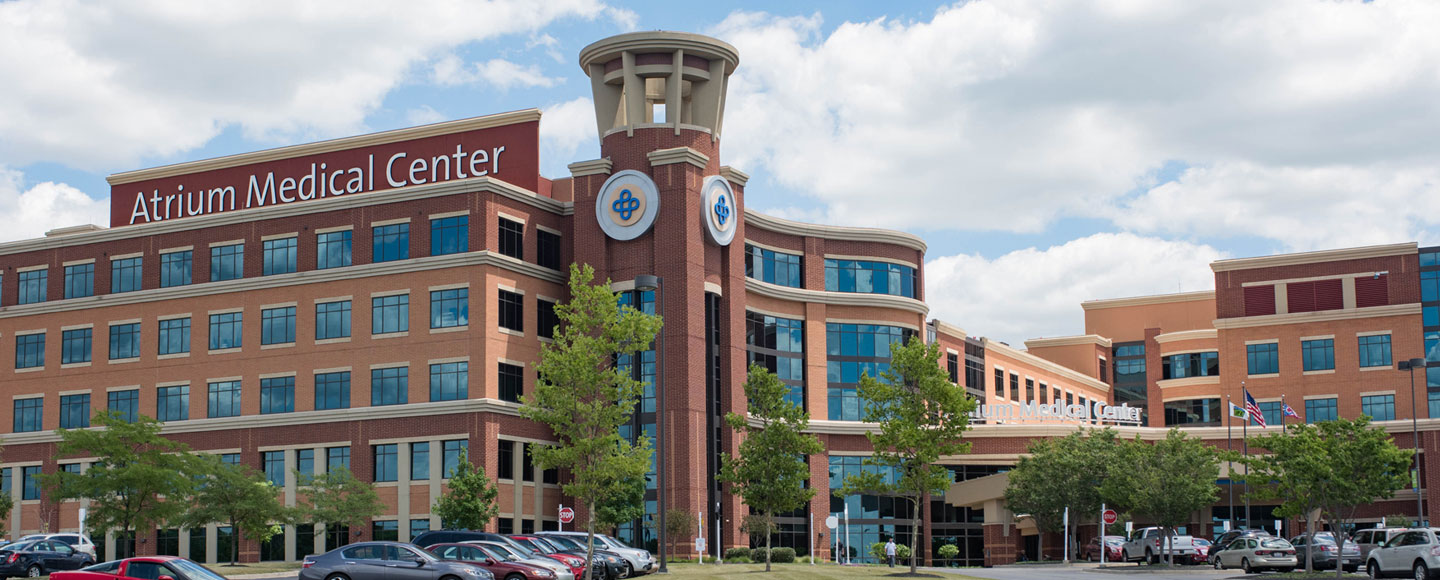 Atrium Medical Center has served Southwest Ohio from its Middletown campus since 1917. We offer a wide range of advanced, innovative care from our 260-acre campus. Leading national organizations regularly recognize our quality care. We are Warren County's only Level III Trauma Center and Primary Stroke Center, providing immediate assessment and care for seriously injured or ill patients, and the only accredited Chest Pain Center in Warren County. We offer maternity, cancer, orthopedics, and heart care, and much more. Atrium Medical Center was named among America's 100 Best Hospitals by Healthgrades. We have achieved Magnet® Recognition, nationally recognized as the highest standard for excellence in patient care.
Visitors
Whether you're a patient, family member, friend, or business partner, we welcome you to our campus. Get more information on parking, how to contact patients, rules for visiting patients, and the amenities we offer, including our food and dining options.
Our Providers
Whether you're looking for a primary care provider or a specialist, our physicians and advanced practice providers offer you advanced, compassionate care in a wide range of specialties. You'll find them conveniently close to home and work.
See all providers
Awards
We're proud to make a difference in our community. When others recognize our achievements, we know we're fulfilling our mission. We're grateful for the awards and recognition our hospital and people have earned.
See all awards
Friday, January 27, 2023
A mammogram is the best way to detect breast cancer early
Monday, January 30, 2023
A mammogram is the best way to detect breast cancer early
Monday, January 30, 2023
Join us for a free weight loss surgery seminar
Local Wound Care Center Participates in Fourth Annual Healogics Wound Care Awareness Week
MIDDLETOWN, Ohio (June 5, 2017): The Wound Care Center and Hyperbaric Services at Atrium Medical Center, a member of the Healogics network, is helping raise awareness of chronic wounds.
The fourth annual Wound Care Awareness Week is being held from June 5 to June 9. One of nearly 800 Healogics-managed centers, Atrium Medical Center offers advanced therapies to patients suffering from chronic wounds. Program directors across the nation will dedicate the entire week to educating physicians, patients and the general public about the chronic wound epidemic and advanced wound care solutions.
"The Wound Care Center and Hyperbaric Services at Atrium helps Premier Health and Atrium Medical Center meet its mission to improve the health of the communities it serves by improving outcomes for chronic wounds. Ninety-eight (98) percent of patients who complete treatment at our center are healed in 30 days or less," said Christina Skinner, program director of the Wound Care Center at Atrium.
Chronic wounds affect an estimated 6.7 million people in the U.S. and the incidence is rising, fueled by an aging population and increasing rates of diseases and conditions such as diabetes, obesity and the late effects of radiation therapy, according to Healogics. Healogics and its affiliated companies manage a nationwide network of Wound Care Centers. If left untreated, chronic wounds can lead to diminished quality of life and possibly amputation of the affected limb.
"A lot of people aren't aware there are special advanced treatments for hard-to-heal wounds," said Dr. William Dickhoner, co-medical director of the Wound Care Center at Atrium. "Special treatments such as bio-engineered tissue and hyperbaric oxygen therapy are available at centers like Atrium's that focus on treating wounds."
People with wounds that have not improved with traditional methods of treatment may benefit from a visit to the Wound Care Center and Hyperbaric Services at Atrium. For more information, please call (513) 974-5700 or visit www.AtriumMedCenter.org/Wound.
Earlier this year, the Wound Care Center at Atrium Medical Center was recognized with national awards for clinical excellence. The Center of Distinction and President's Circle awards were presented by Healogics. The awards recognize outstanding clinical outcomes for 12 consecutive months, including patient satisfaction higher than 92 percent, and a wound healing rate of at least 91 percent in less than 31 median days.
Atrium Medical Center is a full-service hospital and Level III Trauma Center located conveniently along the Interstate 75 corridor at exit 32, One Medical Center Drive in Middletown, between Cincinnati and Dayton. Atrium, which is operated by the Dayton-based nonprofit Premier Health system, is celebrating in 2017 the 100th anniversary of the founding of the Middletown hospital. The hospital employs more than 1,500 people in full-time, part-time and on-call positions.
ABOUT THE WOUND CARE CENTER AND HYPERBARIC SERVICES AT ATRIUM
Location: 200 Medical Center Dr., Suite 105, Middletown, OH 45005
Phone: (513) 974-5700
Hours: 8:00 am to 4:30 pm Mondays to Fridays
Website: www.AtriumMedCenter.org/Wound
Services: Specializing in the treatment of non-healing, chronic wounds using hyperbaric oxygen therapy, negative pressure wound therapy, bio-engineered tissues, biosynthetic dressings and growth factor therapies.
Conditions Treated: The Center treats patients with chronic non-healing wounds including but not limited to diabetic wounds of the lower extremities; pressure ulcers; soft tissue radiation injuries; necrotizing infections; compromised skin grafts and flaps; burns; osteomyelitis; lymphedema; malignant wounds; and venus leg ulcer.
*The current wait time is an estimated wait time before a person sees a physician and is not a guarantee. It is based on patient activity (how many patients are being treated and the severity of their injuries) within the last hour, and it is subject to change at any moment. If you are experiencing an emergency, call 911.