Atrium Medical Center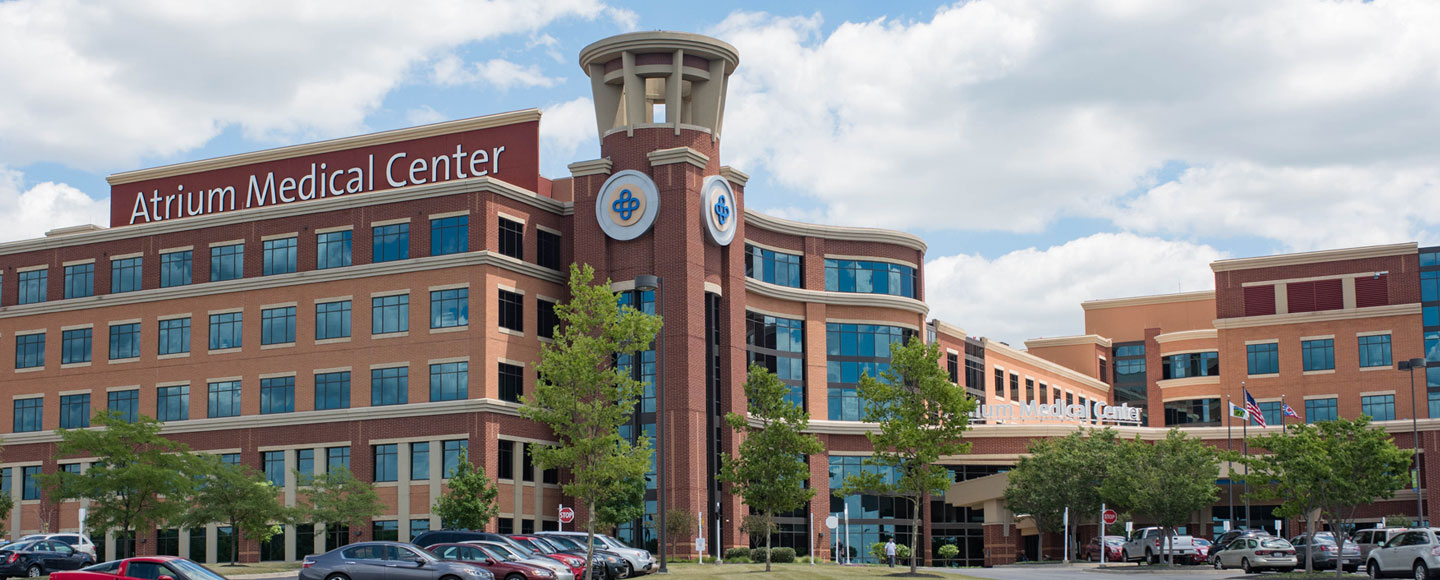 Atrium Medical Center has served Southwest Ohio from its Middletown campus since 1917. We offer a wide range of advanced, innovative care from our 260-acre campus. Leading national organizations regularly recognize our quality care. We are Warren County's only Level III Trauma Center and Primary Stroke Center, providing immediate assessment and care for seriously injured or ill patients, and the only accredited Chest Pain Center in Warren County. We offer maternity, cancer, orthopedics, and heart care, and much more. Atrium Medical Center was named among America's 100 Best Hospitals by Healthgrades. We have achieved Magnet® Recognition, nationally recognized as the highest standard for excellence in patient care.
Visitors
Whether you're a patient, family member, friend, or business partner, we welcome you to our campus. Get more information on parking, how to contact patients, rules for visiting patients, and the amenities we offer, including our food and dining options.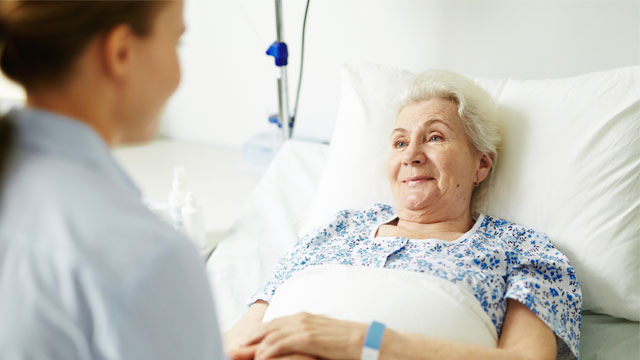 Our Providers
Whether you're looking for a primary care provider or a specialist, our physicians and advanced practice providers offer you advanced, compassionate care in a wide range of specialties. You'll find them conveniently close to home and work.
See all providers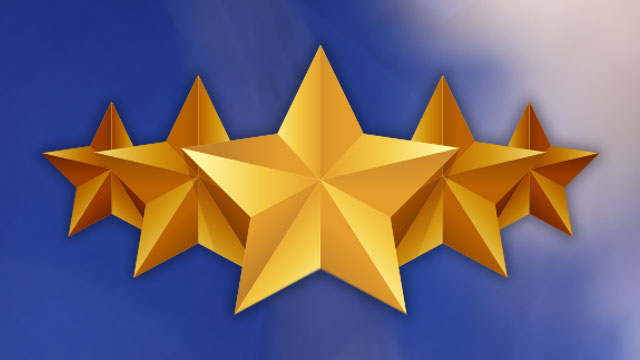 Awards
We're proud to make a difference in our community. When others recognize our achievements, we know we're fulfilling our mission. We're grateful for the awards and recognition our hospital and people have earned.
See all awards
Thursday, November 30, 2023
A mammogram is the best way to detect breast cancer early
Friday, December 1, 2023
A mammogram is the best way to detect breast cancer early
Saturday, December 2, 2023
A mammogram is the best way to detect breast cancer early
Atrium Medical Center to celebrate 100th anniversary throughout 2017
MIDDLETOWN, Ohio (March 6, 2017): In the wake of a tragic train collision and a devastating flood in the early 20th century, community leaders led the drive to ensure the Middletown community had its own hospital.
As a result of their efforts, the Middletown Hospital opened its doors 100 years ago on March 5 with 28 beds and seven staff members.
Since then, the Middletown hospital—now known as Atrium Medical Center—has continued to grow with the community.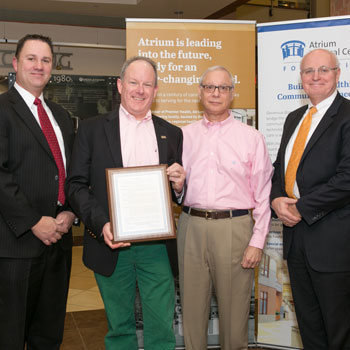 Atrium held a private reception Sunday, March 5, to mark the 100-year milestone.
"During this centennial year, we want to look back and thank those who came before us for their dedication that helped establish a community hospital in 1917 and over the years since then, helped us become a nationally-recognized provider of quality services," said Michael Uhl, president of Atrium Medical Center. "Following in our founders' footsteps, Atrium strives to continue the legacy of serving the health needs of Butler and Warren counties, as well as offering innovative services that evolve to meet the needs of the whole Cincinnati-Dayton region."
Most recently, Atrium received in January 2017 the Healthgrades Distinguished Hospital Award for Clinical Excellence for the third consecutive year. The award places Atrium among the top 5 percent of hospitals nationwide for clinical excellence.
Atrium Medical Center Foundation's fall 2016 gala "Memories Are Made of This" helped kick off the hospital's 100th anniversary celebrations, and the festivities continue this year.
This summer, the hospital will celebrate its history with the communities it serves as a sponsor of Middletown's fireworks display. The 2017 Middletown Independence Day Festival Featuring the Atrium Medical Center 100th Anniversary Fireworks Show will be held Monday, July 3, 2017, at Smith Park. Live music will be provided at the event by Broad Street Bash.
"Middletown is fortunate to have a great corporate partner in Atrium Medical Center. As we constantly strive to improve quality of life and the health of our residents, Atrium's sponsorship of the Independence Day fireworks is a great way to celebrate their long history of service in Middletown and our City's bright future," said Doug Adkins, Middletown city manager.
Three Middletown families played a historic role in establishing a Middletown hospital and ensuring it continues to provide quality care and services to the region. They are the Verity family, the Gardner family and the Harvey family.
Before building a second Middletown steel plant, George M. Verity, founder of the American Rolling Mill Company, in the early 1900s challenged fellow business and city leaders in Middletown to make quality-of-life improvements to fulfill the city's potential. Those improvements included a public hospital.
The nonprofit Middletown Hospital Association was started in 1913 and a 28-bed hospital opened in Middletown in 1917.
George Harvey, co-founder of the Gardner-Harvey Paper Company, was also a member of the Middletown Hospital Association and helped secure land to build the hospital. Son Arthur Harvey started a foundation in the 1960s and the Harvey family's legacy of supporting the hospital lives on 100 years later with great-granddaughter Sarah Kaup. Kaup is a member of the Foundation's current board of directors and administrator of the Arthur Harvey Foundation, which has given generously to hospital campaigns.
Colin Gardner Sr., one of George Harvey's business partners, was also a strong believer in the early 1900s "Greater Middletown" initiative and a staunch supporter of the city's new hospital at the time. In fact, his son Colin Jr. would become a member of the first board of trustees of Middletown Hospital Association and later chair the board.
Pioneering physicians who supported the opening of the hospital and fostered its growth include Dr. Mabel Gardner, Dr. David Gerber and Dr. E.O. Bauer. When Dr. Gardner started her practice in Middletown in 1915, she was the city's first woman doctor and during 50-plus years of practice, she delivered more than 10,000 Middletown babies.
Dr. Gerber was among the first physicians to practice at the new hospital a century ago and even after his retirement, Gerber assisted his son in the operating room three to four days a week.
The hospital's first surgeon, Dr. E.O. Bauer, performed the Middletown Hospital's first surgery, a successful appendectomy. In 1921, he also performed the hospital's first blood transfusion.
Middletown Historical Society assisted with research for the hospital's centennial.
While the celebrations reflect on the hospital's history, Atrium is also offering new services.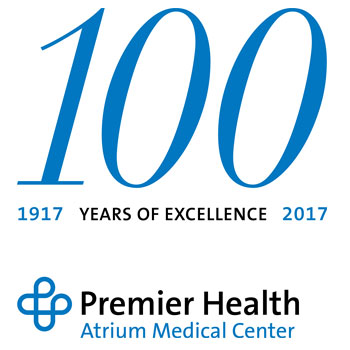 In December, Atrium started its new Natural Beginnings Birth Center, the first comprehensive natural birth center in the greater Cincinnati area to be located within an acute care hospital. In spring 2017, renovations will be completed to add a Senior Emergency Center within the existing emergency department. In addition, Atrium and Premier Health are now part of MD Anderson Cancer Network ®, a program of MD Anderson Cancer Center. The affiliation provides Premier Health physicians with access to MD Anderson's world-renowned expertise, offering patients and their families enhanced cancer care close to home.
Atrium Medical Center is located conveniently along the Interstate 75 corridor at exit 32, One Medical Center Drive in Middletown, between Cincinnati and Dayton.
TIMELINE OF MIDDLETOWN HOSPITAL HISTORY
In the early 20th century two tragedies—a train wreck in 1910 and a devastating flood in 1913—forced the Middletown community to seek medical treatment miles away in Cincinnati or Dayton. Recognizing the need for local medical care, community leaders committed resources to the development of a new hospital. Middletown Hospital Association was incorporated as a nonprofit institution in 1913, and construction began on the new hospital. The following are key events in the 100-year history of the hospital now known as Atrium Medical Center:
March 5, 1917: The 28-bed Middletown Hospital opened and its staff were immediately put to the test with the great flu epidemic of 1917. The first surgery by Dr. E.O. Bauer was a successful appendectomy.
1923: The hospital increased its capacity to 100 beds, and room rates went from $3.50 to $4 a day.
1940s: The hospital Auxiliary helped to purchase a giant, 220,000-volt x-ray machine to treat tumors.
1960s: The hospital established one of the country's first coronary care units in a community hospital, and Middletown Hospital was the second in the entire Cincinnati/Dayton area to begin a cardiac rehabilitation program.
1983: Middletown Hospital became Middletown Regional Hospital to better reflect the hospital's ever-expanding service area including Ohio's Butler, Warren, Preble and Montgomery counties.
1987: The hospital added a new maternity unit, same-day surgery center, and updated facilities for emergency, inpatient surgery and intensive care.
1997: Middletown Regional Hospital became the nation's first winner of the prestigious Ernest A. Codman Award for quality from the Joint Commission on the Accreditation of Healthcare Organizations.
2004: The hospital became verified by the American College of Surgeons as a Level III trauma center.
2005: Middletown Regional Hospital joined the Dayton-based Premier Health system.
December 9, 2007: The newly built Atrium Medical Center opened its doors on a new, approximately 190-acre campus near the intersection of Ohio 122 and Interstate 75. The former hospital property on McKnight Drive had become landlocked, but the new site provides room for future growth.
2008: The first open heart surgery was performed at the newly built Atrium Medical Center.
2010: Atrium expanded its surgical options with the addition of a surgical robot. The da Vinci Si HD system enabled surgeons to perform complex surgeries through smaller incisions, resulting in shorter hospital stays, reduced pain and faster recovery time for patients.
2014: Edgewood City Schools and Atrium expanded their partnership with the opening of a new medical office building on the schools' campus. The facility contains the offices of Trenton Family Medicine, as well as laboratory, medical imaging and physical therapy services.
2015: Atrium Health Center Mason opens on Mason Montgomery Road, expanding Atrium's presence in Warren County. The facility offers full-service, 24/7 emergency care, medical imaging and lab services, 3D mammography, cardiac testing and more.
*The current wait time is an estimated wait time before a person sees a physician and is not a guarantee. It is based on patient activity (how many patients are being treated and the severity of their injuries) within the last hour, and it is subject to change at any moment. If you are experiencing an emergency, call 911.