Atrium Medical Center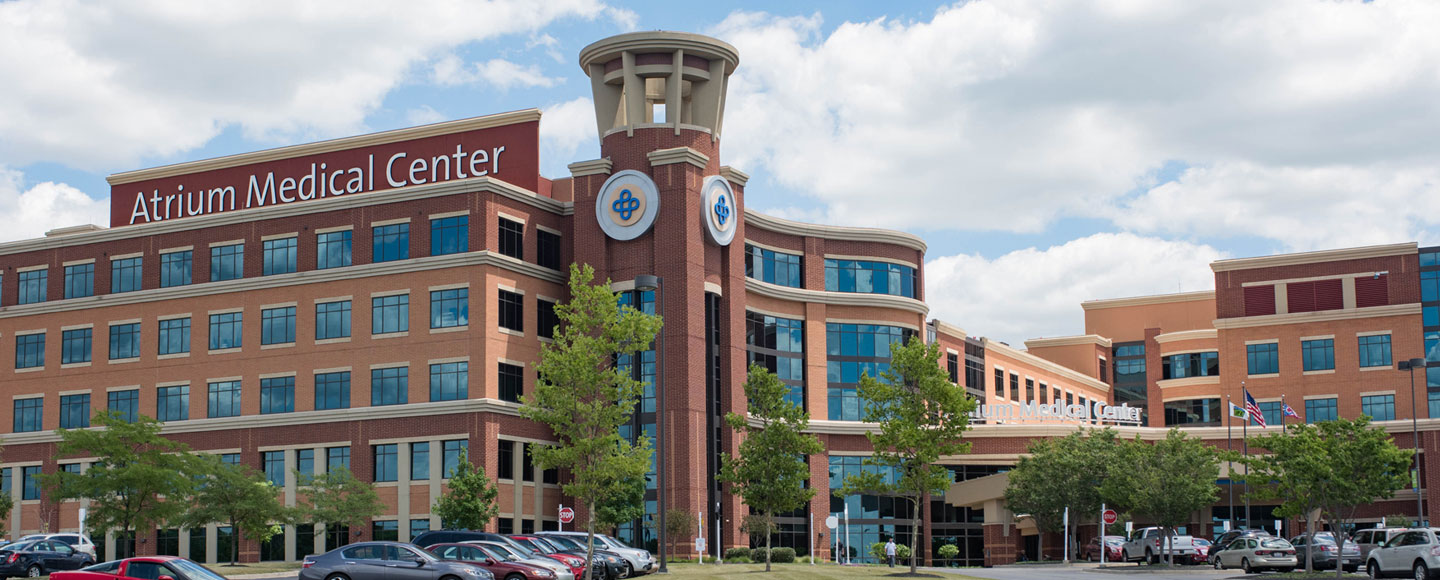 Atrium Medical Center has served Southwest Ohio from its Middletown campus since 1917. We offer a wide range of advanced, innovative care from our 260-acre campus. Leading national organizations regularly recognize our quality care. We are Warren County's only Level III Trauma Center and Primary Stroke Center, providing immediate assessment and care for seriously injured or ill patients, and the only accredited Chest Pain Center in Warren County. We offer maternity, cancer, orthopedics, and heart care, and much more. Atrium Medical Center was named among America's 100 Best Hospitals by Healthgrades. We have achieved Magnet® Recognition, nationally recognized as the highest standard for excellence in patient care.
Visitors
Whether you're a patient, family member, friend, or business partner, we welcome you to our campus. Get more information on parking, how to contact patients, rules for visiting patients, and the amenities we offer, including our food and dining options.
Our Providers
Whether you're looking for a primary care provider or a specialist, our physicians and advanced practice providers offer you advanced, compassionate care in a wide range of specialties. You'll find them conveniently close to home and work.
See all providers
Awards
We're proud to make a difference in our community. When others recognize our achievements, we know we're fulfilling our mission. We're grateful for the awards and recognition our hospital and people have earned.
See all awards
Friday, January 27, 2023
A mammogram is the best way to detect breast cancer early
Monday, January 30, 2023
A mammogram is the best way to detect breast cancer early
Monday, January 30, 2023
Join us for a free weight loss surgery seminar
Little Red Hats Raise Awareness of Congenital Heart Defects
Heart Defects Affect 25,000 Babies Each Year in the United States Alone
DAYTON, OHIO (February 8, 2017) – More than 600 babies born at Premier Health hospitals during February are receiving little red keepsake hats from the American Heart Association to raise awareness of congenital heart defects, the most common type of birth defect in the nation.
"Little Hats, Big Hearts™ honors babies, moms, and heart-healthy lives in a very special way," said Tim Smallwood, Go Red for Women director for the Miami Valley division of the American Heart Association. "Supporters are knitting and crocheting red hats to be given out to babies during American Heart Month to empower moms to live heart-healthy lives and to help their children do the same. Together, we are working to raise awareness of congenital heart defects, provide resources and inspire moms to take their family's health to heart."
Congenital heart defects affect 25,000 babies each year in the United States alone. This translates to more than one such defect for every 150 births. At least 500,000 of the nation's children have some form of cardiac problem. Approximately 1 million people live with congenital heart defects.
"We're honored to do our part here at Premier Health to call attention to a medical condition that affects a significant number of infants in our community," said L. William "Bill" Rettig, MD, chair of the Women's Health Institute at Premier Health. "Thankfully, many of these defects can be easily fixed. Still, some children born with complex defects need special medical care immediately. The good news is that, thanks to modern medicine, children with complex defects typically not only survive into adulthood, but lead normal lives."
Premier Health hospitals deliver more than 7,000 babies each year, the most in the Dayton region. Premier Health provides comprehensive maternity services, including specialists in high-risk pregnancies at their internationally recognized maternal-fetal medicine center and the region's most experienced Level IIIB neonatal intensive care unit.
*The current wait time is an estimated wait time before a person sees a physician and is not a guarantee. It is based on patient activity (how many patients are being treated and the severity of their injuries) within the last hour, and it is subject to change at any moment. If you are experiencing an emergency, call 911.