Atrium Medical Center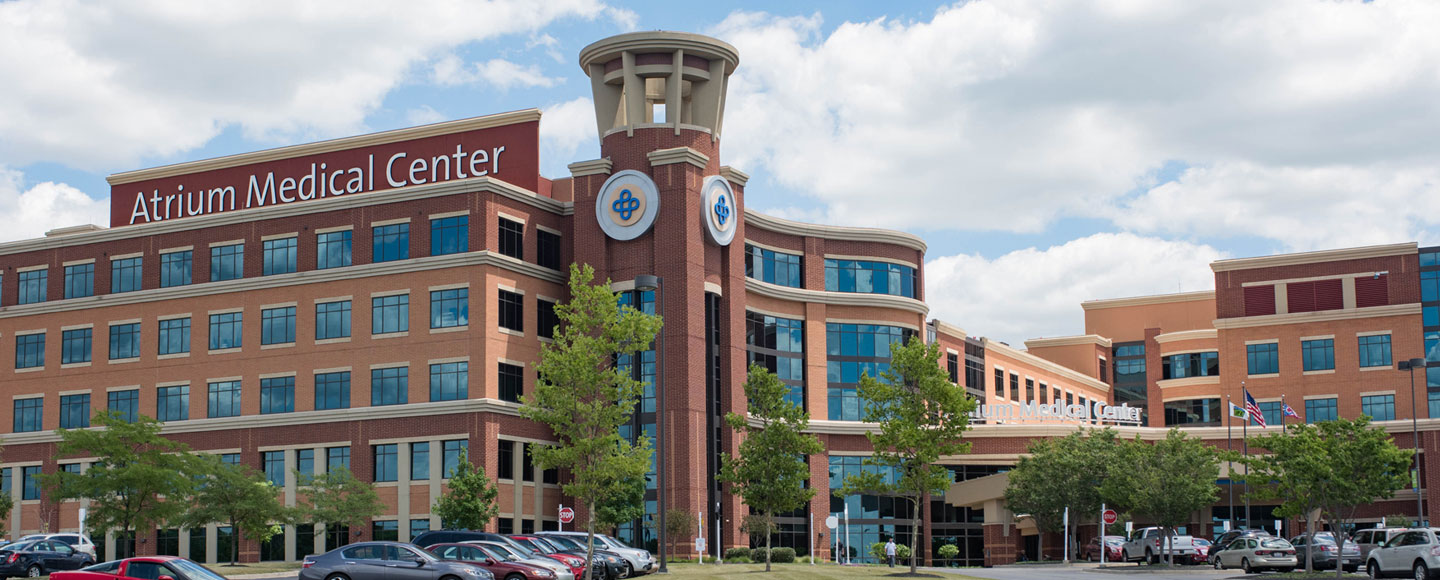 Atrium Medical Center has served Southwest Ohio from its Middletown campus since 1917. We offer a wide range of advanced, innovative care from our 260-acre campus. Leading national organizations regularly recognize our quality care. We are Warren County's only Level III Trauma Center and Primary Stroke Center, providing immediate assessment and care for seriously injured or ill patients, and the only accredited Chest Pain Center in Warren County. We offer maternity, cancer, orthopedics, and heart care, and much more. Atrium Medical Center was named among America's 100 Best Hospitals by Healthgrades. We have achieved Magnet® Recognition, nationally recognized as the highest standard for excellence in patient care.
Visitors
Whether you're a patient, family member, friend, or business partner, we welcome you to our campus. Get more information on parking, how to contact patients, rules for visiting patients, and the amenities we offer, including our food and dining options.
Our Providers
Whether you're looking for a primary care provider or a specialist, our physicians and advanced practice providers offer you advanced, compassionate care in a wide range of specialties. You'll find them conveniently close to home and work.
See all providers
Awards
We're proud to make a difference in our community. When others recognize our achievements, we know we're fulfilling our mission. We're grateful for the awards and recognition our hospital and people have earned.
See all awards
Friday, January 27, 2023
A mammogram is the best way to detect breast cancer early
Monday, January 30, 2023
A mammogram is the best way to detect breast cancer early
Monday, January 30, 2023
Join us for a free weight loss surgery seminar
Premier Health and Atrium Medical Center support Middletown baby pantry
MIDDLETOWN, Ohio (June 30, 2016) – A service providing diapers, bottles and other essentials to Middletown area parents has been re-named the Premier Health Atrium Medical Center Baby Pantry after the health system provided funding to buy supplies.
Community Building Institute Middletown Inc. operates the Parent Resource Center where the baby pantry is located at the Robert "Sonny" Hill Community Center in Middletown. The Parent Resource Center's mission is to connect families to early education programs and empower adults to achieve the success they desire through educational programming.
"This service is so important because providing diapers and baby essentials to parents not only allows the Parent Resource Center to fill a need that is not met through traditional assistance, but also affords us the opportunity to educate parents to the importance of enrolling their children in early education programs," said Karin Maney, executive director of Community Building Institute Middletown.
A ribbon cutting and naming ceremony to celebrate the new sponsorship was held June 29 at the center on Lafayette Avenue in Middletown. Funding from Premier Health and Atrium will help replenish pantry supplies so the center can continue to expand its outreach and marketing about early childhood education to local families.
The mission of Atrium's nonprofit parent system Premier Health is to build healthier communities and supporting the baby pantry is a great way to give back, said Carol Turner, president and chief executive officer of the Middletown hospital, the city's second largest employer.
"The last thing we want is a family welcoming a new baby into their home to have to worry about the essentials like diapers and baby wipes," Turner said. "It is crucial to make this service available in the center of Middletown."
The Parent Resource Center including the baby pantry opened in 2010 in response to a community call for more support for under-resourced parents raising small children. Today, the center is open five days a week from 9:30 am to 12:30 pm Any resident in the Middletown area and individuals referred by the Parent Resource Center's Butler County partners can access the pantry. In addition to the baby pantry, the center offers weekly play groups, on-site connection to Butler County Educational Services Center preschool enrollment, Butler Tech GED and ESOL classes, financial literacy and parenting classes, and more self-sufficiency opportunities.
"We were looking at how we could take our collaborations and partnerships a little farther," said Anita Scott Jones, hospital relations manager for Atrium. "Now this is a visible for the community to see our commitment to the city."
The Parent Resource Center sees about 200 families annually and distributes more than 11,000 diapers along with other baby essentials. Earlier in 2016, the Parent Resource Center was also named an agency partner of United Way of Greater Cincinnati.
For more information, contact the Parent Resource Center at (513) 217-4982(513) 217-4982 or visit cbimiddletown.org
.
Learn more about Atrium Medical Center at atriummedcenter.org.
*The current wait time is an estimated wait time before a person sees a physician and is not a guarantee. It is based on patient activity (how many patients are being treated and the severity of their injuries) within the last hour, and it is subject to change at any moment. If you are experiencing an emergency, call 911.