Atrium Medical Center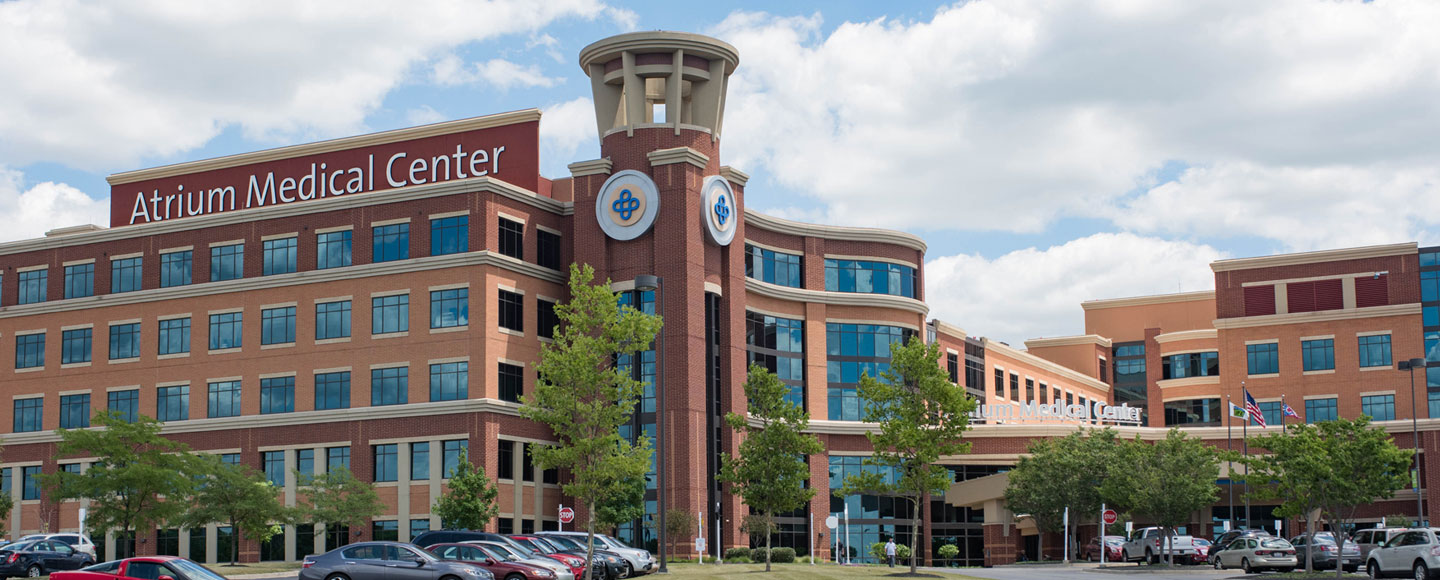 Atrium Medical Center has served Southwest Ohio from its Middletown campus since 1917. We offer a wide range of advanced, innovative care from our 260-acre campus. Leading national organizations regularly recognize our quality care. We are Warren County's only Level III Trauma Center and Primary Stroke Center, providing immediate assessment and care for seriously injured or ill patients, and the only accredited Chest Pain Center in Warren County. We offer maternity, cancer, orthopedics, and heart care, and much more. Atrium Medical Center was named among America's 100 Best Hospitals by Healthgrades. We have achieved Magnet® Recognition, nationally recognized as the highest standard for excellence in patient care.
Visitors
Whether you're a patient, family member, friend, or business partner, we welcome you to our campus. Get more information on parking, how to contact patients, rules for visiting patients, and the amenities we offer, including our food and dining options.
Our Providers
Whether you're looking for a primary care provider or a specialist, our physicians and advanced practice providers offer you advanced, compassionate care in a wide range of specialties. You'll find them conveniently close to home and work.
See all providers
Awards
We're proud to make a difference in our community. When others recognize our achievements, we know we're fulfilling our mission. We're grateful for the awards and recognition our hospital and people have earned.
See all awards
Tuesday, October 4, 2022
A mammogram is the best way to detect breast cancer early
Wednesday, October 5, 2022
A mammogram is the best way to detect breast cancer early
Thursday, October 6, 2022
A mammogram is the best way to detect breast cancer early
Atrium Health Center Mason celebrates with Food Truck Fridays in May
MASON, Ohio (May 2, 2016) – Help celebrate Atrium Health Center Mason's one-year anniversary over lunch with Food Truck Fridays in May.
Last year, Atrium Medical Center opened a 13-bed emergency department in Mason at 7450 Mason-Montgomery Road. It was an expansion of services offered at the site for the Mason and Deerfield Twp. communities.
The project grew Atrium Health Center Mason to a total approximately 44,000-square feet.
In addition to 24-hour emergency care, other Atrium Medical Center services available at the center include: laboratory testing; medical imaging such as X-ray, CT, ultrasound and MRI; 3D mammography and bone density scanning; cardiac diagnostics; and occupational medicine.
Atrium Health Center Mason also houses physician offices in the areas of family medicine, cardiology, orthopedics, obstetrics and gynecology, maternal fetal medicine and more.
Stop by the health center and learn more from 11:00 am to 2:00 pm on the following Fridays: May 6, 13 and 20. During those hours, two food trucks will be in the parking lot for the community to buy convenient lunches. Adena's Beefstroll, Harvest Mobile Cuisine, El Meson, and C'est Cheese plan to be on site at various times. For more information and to see the food truck schedule, visit www.atriummedcenter.org/mason.
Atrium Medical Center is part of Premier Health and operates a full-service hospital and Level III Trauma Center in Middletown, as well as the Mason health center and other outpatient health care locations in the area.
*The current wait time is an estimated wait time before a person sees a physician and is not a guarantee. It is based on patient activity (how many patients are being treated and the severity of their injuries) within the last hour, and it is subject to change at any moment. If you are experiencing an emergency, call 911.