Atrium Medical Center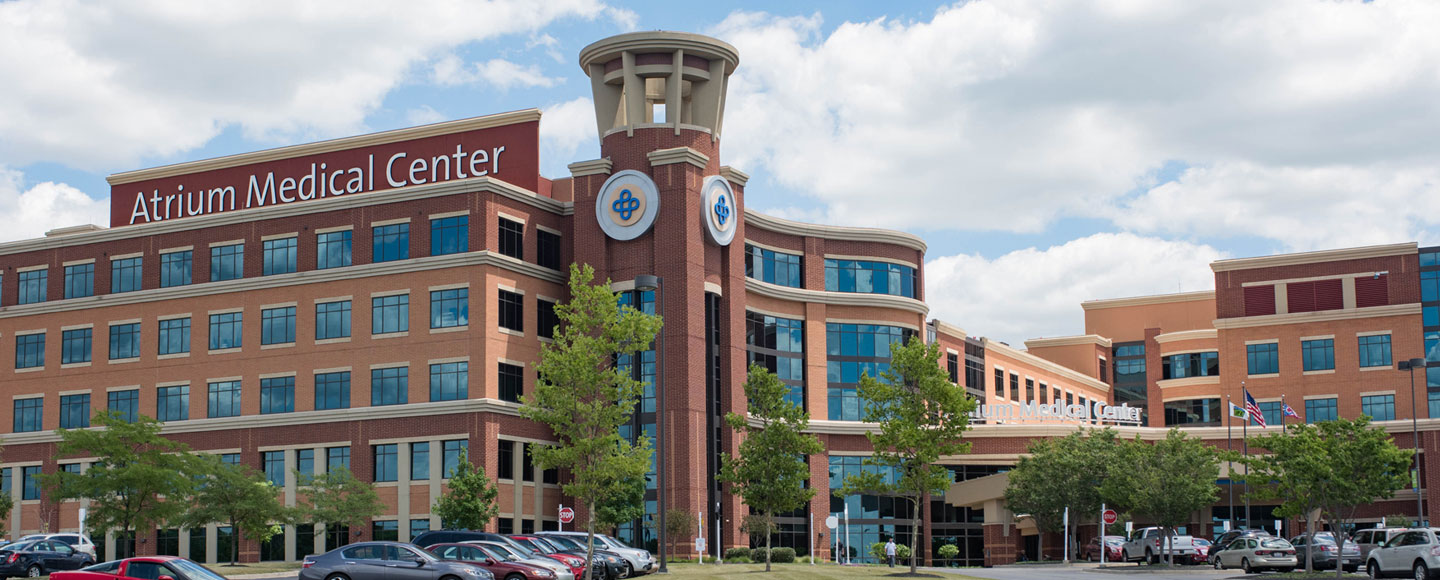 Atrium Medical Center has served Southwest Ohio from its Middletown campus since 1917. We offer a wide range of advanced, innovative care from our 260-acre campus. Leading national organizations regularly recognize our quality care. We are Warren County's only Level III Trauma Center and Primary Stroke Center, providing immediate assessment and care for seriously injured or ill patients, and the only accredited Chest Pain Center in Warren County. We offer maternity, cancer, orthopedics, and heart care, and much more. Atrium Medical Center was named among America's 100 Best Hospitals by Healthgrades. We have achieved Magnet® Recognition, nationally recognized as the highest standard for excellence in patient care.
Visitors
Whether you're a patient, family member, friend, or business partner, we welcome you to our campus. Get more information on parking, how to contact patients, rules for visiting patients, and the amenities we offer, including our food and dining options.
Our Providers
Whether you're looking for a primary care provider or a specialist, our physicians and advanced practice providers offer you advanced, compassionate care in a wide range of specialties. You'll find them conveniently close to home and work.
See all providers
Awards
We're proud to make a difference in our community. When others recognize our achievements, we know we're fulfilling our mission. We're grateful for the awards and recognition our hospital and people have earned.
See all awards
Friday, February 10, 2023
A mammogram is the best way to detect breast cancer early
Saturday, February 11, 2023
Pregnant and planning on an unmedicated birth? This class is for you.
Saturday, February 11, 2023
A mammogram is the best way to detect breast cancer early
Premier Health Becomes A Certified Member of MD Anderson Cancer Network® to Bring Enhanced Cancer Care to Southwest Ohio
DAYTON, OH (March 2, 2016) – Premier Health announced today that it has become a certified member of MD Anderson Cancer Network®, a program of MD Anderson Cancer Center. The affiliation provides Premier Health physicians with access to MD Anderson's world-renowned expertise, offering patients and their families enhanced cancer care close to home.
Based in Houston, MD Anderson is one of the world's most respected cancer centers, focused on multidisciplinary patient care, research, education, and prevention. As one of the top ranked cancer centers in the nation, MD Anderson is one of the original three Comprehensive Cancer Centers designated by the National Cancer Act in 1971 and is home to the largest clinical trials program for cancer in the nation.
"We are pleased to be an affiliate of MD Anderson Cancer Network®, a program designed to enhance cancer services provided locally," said Jim Pancoast, CEO of Premier Health. "By combining the strengths of MD Anderson Cancer Network® and Premier Health, we will be able to provide a new level of cancer care right here in Southwest Ohio."
Certified membership in MD Anderson Cancer Network® is a quality improvement and best practices program based on MD Anderson's approach to multidisciplinary cancer care. It offers members access to MD Anderson clinical practice guidelines and best practices, as well as nationally accepted quality indicators, with the goal of providing enhanced cancer care close to home. To date, this exciting program has paired 13 already successful local cancer programs across the country with the network. It offers a high level of collaboration and the sharing of knowledge among physicians and other healthcare professionals.
"MD Anderson Cancer Network is pleased to welcome Premier Health as our newest certified member," said William A. Murphy, Jr., MD, chairman of the board of MD Anderson's Physicians Network and professor of Radiology. "Premier already has a strong oncology program but this new relationship will give its medical oncologists, surgeons, and radiation oncologists access to a new level of subspecialists with whom to consult. We, too, will learn from Premier and together, we will work toward a common goal of elevating cancer care across this region."
"This exciting new relationship will be of great benefit to patients and their families across our entire service area," said Charles Bane, MD, chair of the Premier Health Cancer Institute. "Being aligned with and having direct lines of communication to physicians and other healthcare professionals at one of the leading cancer organizations in the country reflects our commitment to bring new options for cancer care right here to Southwest Ohio."
Premier Health offers cancer services for patients and their families, conveniently located throughout the region at all of its hospital sites and more, including Miami Valley Hospital, Miami Valley Hospital South, Good Samaritan Hospital (closed in 2018), Good Samaritan North Health Center (Miami Valley Hospital North as of July 23, 2018), Atrium Medical Center, and Upper Valley Medical Center.
*The current wait time is an estimated wait time before a person sees a physician and is not a guarantee. It is based on patient activity (how many patients are being treated and the severity of their injuries) within the last hour, and it is subject to change at any moment. If you are experiencing an emergency, call 911.