Room with a View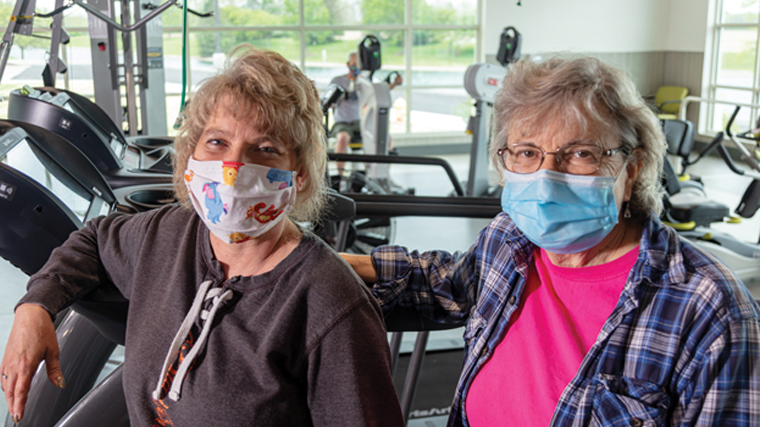 Above: Penny Kissinger, right, and her daughter, Lori Seman, both are currently in the cardiac rehabilitation program at UVMC's new rehabilitation center. Read their story.
New rehabilitation center offers more comfort and convenience.
Upper Valley Medical Center's (UVMC) cardiac and pulmonary rehabilitation program has an expanded, new home.
"The expansion allows UVMC to serve a growing cardiopulmonary rehabilitation patient population with high-quality care in a supportive setting – all easily accessible to Miami County and the surrounding area," says Tom Parker, recently retired UVMC president.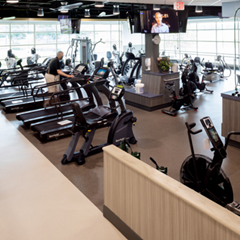 The new center offers a spacious updated exercise facility where patients with chronic cardiac and pulmonary conditions can receive exercise training in a safe, supervised environment, says Jennifer Clune, MD, pulmonologist and critical care physician. "Exercise training offers significant enhancement for patients in their functional capacity and quality of life. It is a wonderful asset to have this updated facility close to home," Dr. Clune said.
Patients receive an individualized treatment plan to help them regain strength, reduce the risk of future heart and lung problems, prevent their condition from worsening, and improve their quality of life.
Easier Access, More Options
The 7,600-square foot addition to the hospital more than doubled the size of the program space. Equipment was upgraded and spread out, and supplemental oxygen was relocated to improve access and safety during exercise. Private consultation rooms, storage for patients' belongings, a waiting room, and easier access to restrooms also were included.
Doctors praised the exterior window walls that give participants a view of nature. "The space is more open for staff to support patients and can accommodate social distancing during patient socialization and camaraderie, which are important aspects of rehabilitation programs," Dr. Clune says.
Additional Enhancements
UVMC has initiated other enhancements throughout the hospital, as well. "UVMC is reconfiguring and updating the main lobby and registration areas to provide improved comfort, convenience, ease of access, safety, and confidentiality for patients and visitors," Parker says.
The retail pharmacy and hospital gift shop will move closer to the hospital's front entrance, and the coffee bar will relocate to the lower level near the cafeteria to help reduce main lobby congestion and noise. First- and second-floor wayfinding signage has been enhanced, and updated waiting areas provide a more comfortable, healing environment.
Back to the Summer 2020 issue of Feel Good magazine.