Relief From Hand Tremors: Sharon's Story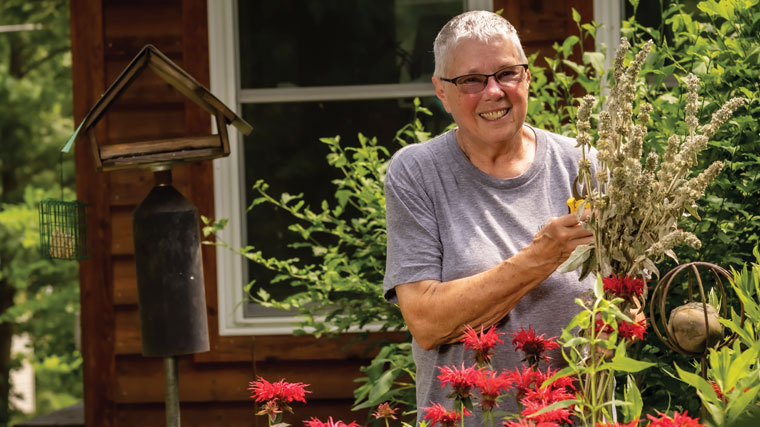 Completing the simplest of tasks seemed impossible for Sharon Deno. The 76-year-old Athens resident had a difficult time holding the newspaper, signing her name, and doing the hobby she loves most: gardening.
Sharon experiences essential tremor (ET), a disorder that causes uncontrollable shaking in her hands, limiting her ability to live an independent and active lifestyle. "It's been a gradual process," explains Sharon. "In very recent months, it seemed to have gotten significantly worse."
Sharon says her father had ET as he got older, which hindered his quality of life. She says she wanted to find a procedure that could help eliminate her essential tremor before it got worse. "I started searching the internet and saw a procedure that looked pretty painless that could possibly help me," says Sharon.
New Non-Invasive Treatment
Through a partnership with Insightec, Premier Health's Miami Valley Hospital, is the first hospital in Southwest Ohio to offer MR-guided Focused Ultrasound Treatment. Additionally, the hospital is one of eight centers in the U.S. offering tremor program services.
"This is relatively new technology," explains Daniel Gaudin, MD, Ph.D., a neurosurgeon with the Clinical Neuroscience Institute at the hospital. "This treatment option is offered to patients with essential tremor and tremor-dominant Parkinson's disease. Patients from across the country have come to Dayton and Miami Valley Hospital for this treatment."
The Food and Drug Administration (FDA) approved this procedure as an outpatient treatment option for certain patients who do not respond to ET or Parkinson's medications. Focused ultrasound uses acoustic energy to target tissue deep in the brain without incisions or radiation.
"I had taken medication, which didn't help," explains Sharon. "I knew there was a brain implant procedure, which I really did not want to do. When I found out about this procedure, I was hoping that it would be something I could do."
Patients who qualify for the outpatient procedure will have their tremor monitored the day of the treatment by completing tasks such as drawing straight lines and signing their name. The patient's head is shaved to ensure there is no interference with the energy delivered, and a frame is attached to the head to keep it stable.
"Before we finalize the treatment, we run many trials to make sure the ultrasound is in the optimal part of the brain for the best results," says Dr. Gaudin. Once the anatomic target is confirmed, Dr. Gaudin and his team apply gradual energy to create a highly accurate and controllable lesion from a control room next door. The result for many patients is immediate improvement of their hand tremor with minimal complications.
Life-Changing Results
After two hours in the MRI machine, Sharon was able to walk herself out of the room and saw immediate results.
"As far as I'm concerned, this is a 100 percent improvement," says Sharon. "I knew what was supposed to happen, but I cannot believe this procedure went so well."
Sharon says her experience with Dr. Gaudin and his team changed her life. "Dr. Gaudin really cared about me coming out of this procedure with a good outcome," she explains. "He was so personable and made sure I was aware of everything that was going to take place, so there were no surprises."
Seven hours after Sharon's arrival, she was able to walk out of Miami Valley Hospital with no hand tremors. She says this experience will help her get back to enjoying the little things in life.
"I'm so grateful that I will be able to get back into the garden without getting frustrated," explains Sharon. "I can finally get back to doing the things I love like gardening – and even being able to read a newspaper again without shaking."
Back to the Summer 2021 issue of Feel Good magazine.