Atrium Medical Center Rehabilitation Report Card
The Rehabilitation Center at Atrium Medical Center is accredited by The Joint Commission and the Commission on Accreditation of Rehabilitation Facilities for inpatient rehabilitation programs – hospital (adult) and stroke specialty programs. In 2021, Atrium Medical Center ranked forty-third in the nation for rehabilitation services by U.S. News & World Report. Learn more.
Meeting and Exceeding Standards of Care
Total Patient Population
These accreditations mean more than just a job well done. They mean we are committed to delivering the highest quality of care possible for patients and to meeting or exceeding national standards for that care.
Number of Admissions by Years of Age:

0-17 years - 0
18-29 years - 10
30-44 years - 26
45-64 years - 123
65-74 years - 120
75-101 years - 138
Listed below are some of the specific areas in which we exceed national standards for care.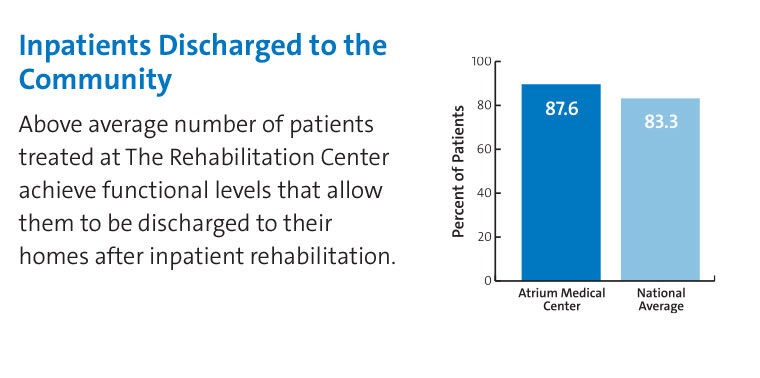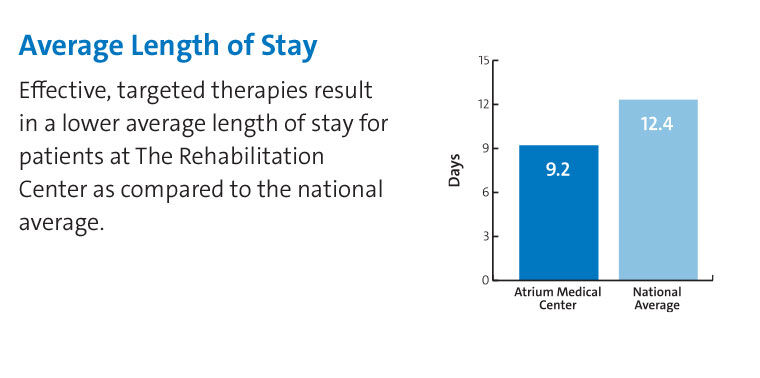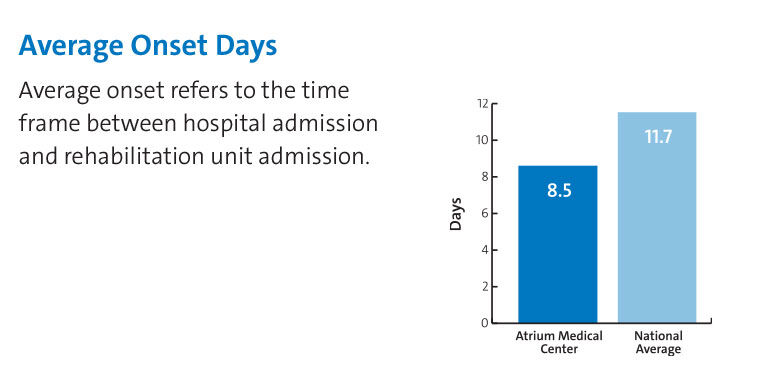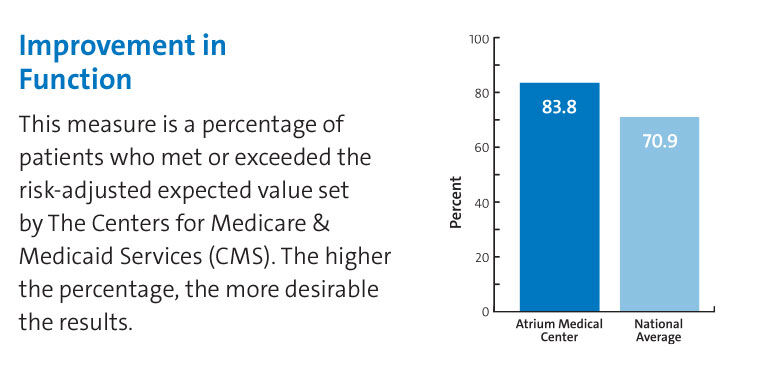 Stroke Specific Outcomes
108 Stroke Rehab Admissions to the Rehabilitation Center in 2021 comprising 25% of all patients admitted.
| | | |
| --- | --- | --- |
| | Atrium's Inpatient Rehabilitation Center | National Average |
| Stroke Patients Discharged to the Community | 86.8% | 76.3% |
| Stroke Patients' Average Length of Stay | 10.6 days | 15.6 days |
| Stroke Patients' Average Days Onset | 7.8 days | 11.4 days |
| Percent of Patients That Meet or Exceed Risk-Adjusted Expected Value | 79.8% | 62.5% |
Patient Handouts
Keeping You Safe During COVID-19
You will find new safety measures in place when you schedule appointments and come to our facilities — all with the goal of keeping you safe as we care for you.
Contact Us
Our rehabilitation team is ready to help you get back to the things that matter most in your life. We offer locations close to you throughout Southwest Ohio, in our hospitals and in outpatient facilities. Check out our list of locations, or call the number of the hospital near you to learn more about rehabilitation services in your area.