Atrium Medical Center Rehabilitation Report Card
The Rehabilitation Center at Atrium Medical Center is accredited by The Joint Commission and the Commission on Accreditation of Rehabilitation Facilities for inpatient rehabilitation programs – hospital (adult) and stroke specialty programs.
Meeting and Exceeding Standards of Care
Total Patient Population
These accreditations mean more than just a job well done. They mean we are committed to delivering the highest quality of care possible for patients and to meeting or exceeding national standards for that care.
Number of Admissions by Years of Age:

0-16 – 0
17-25 – 4
26-35 – 8
36-44 – 18
45-64 – 109
65-74 – 114
75-102 – 181

Listed below are some of the specific areas in which we exceed national standards for care.
Inpatients Discharged to the Community
Above average numbers of patients treated at The Rehabilitation Center achieve functional levels that allow them to be discharged to their homes after inpatient rehabilitation.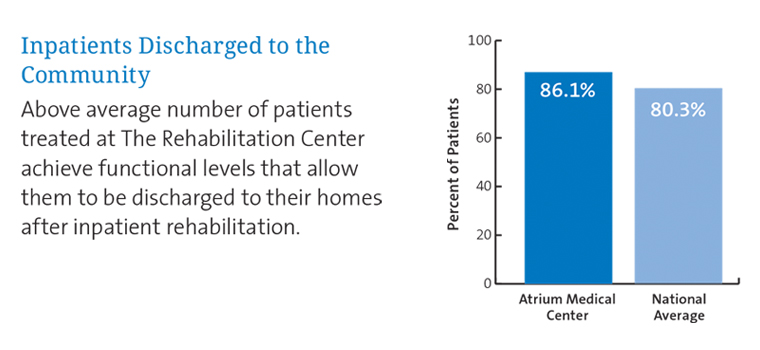 Average Length of Stay
Effective, targeted therapies result in a lower average length of stay for patients at The Rehabilitation Center as compared to the national average.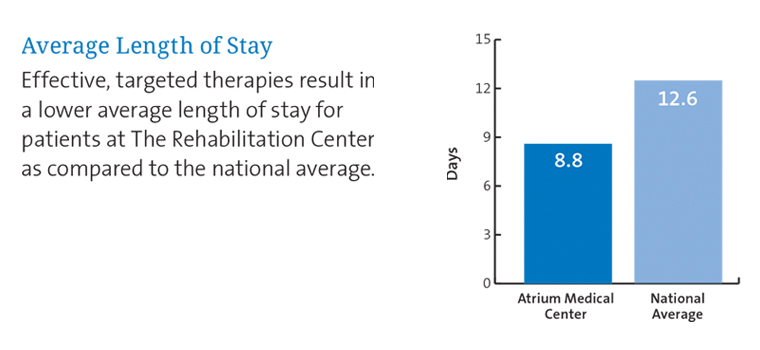 Average Onset Days
Average onset refers to the time frame between hospital admission and rehabilitation unit admission.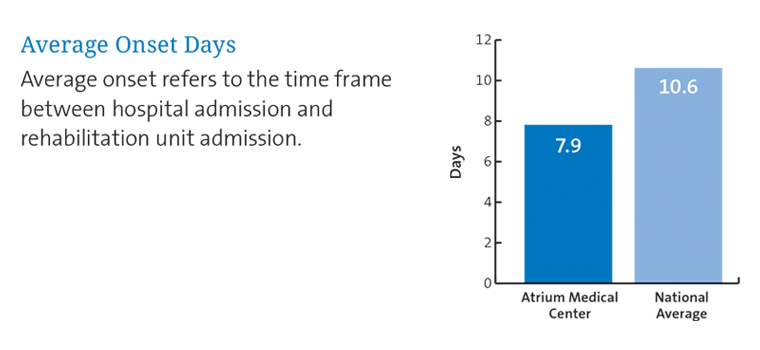 Improvement in Function
Patients at The Rehabilitation Center made greater improvement in a shorter amount of time than at other facilities in the nation. This higher length-of-stay ratio means a more efficient and effective patient stay.
Data compiled from Uniform Data Systems, February 2019.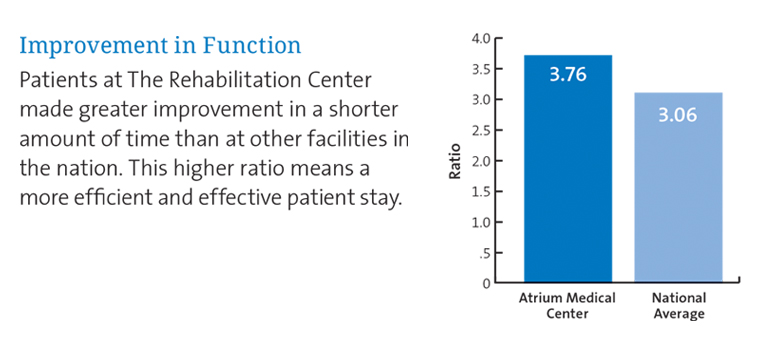 Stroke Specific Outcomes
109 Stroke Rehab Admissions to the Rehabilitation Center in 2018 comprising 25% of all patients admitted
| | | |
| --- | --- | --- |
| | Atrium's Inpatient Rehabilitation Center | National Average |
| Stroke Patients Discharged to the Community | 85% | 74% |
| Stroke Patients' Average Length of Stay | 10.2 days | 13.8 days |
| Stroke Patients' Average Days Onset | 7.1 days | 9.1 days |
| Stroke Patients' Improvement/Efficiency | 3.32 | 2.61 |
Patient Handouts
Contact Us
Our rehabilitation team is ready to help you get back to the things that matter most in your life. We offer locations close to you throughout Southwest Ohio, in our hospitals and in outpatient facilities. Call the number for the hospital near you to learn more about rehabilitation services in your area.