Rehabilitation
When an illness or injury interrupts your life, Premier Health's rehabilitation team offers a wide variety of therapies to help you get back to the things that matter most.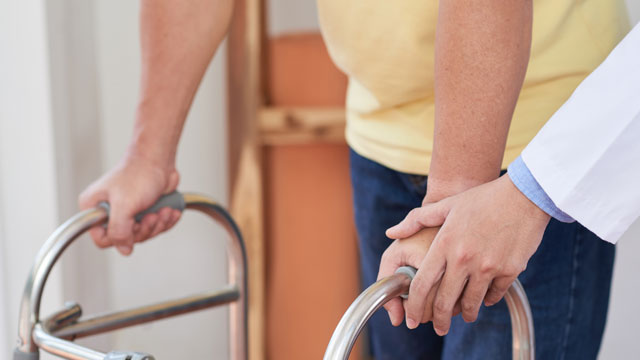 When an illness or injury interrupts your life, Premier Health's rehabilitation team is ready to help. Our goal is to get you back to the things that matter most, whether that be planting a garden, playing lacrosse, or going to church. Our comprehensive services are robust, yet personalized to meet your specific needs.
Physical Therapy and Specialized Rehabilitation Programs
When it comes to rehabilitation, one size does not fit all. The program that works for you may be very different than the program that works for someone else. In addition to acute inpatient therapy, we offer outpatient physical therapy and numerous specialized rehabilitation programs that will help you reach your goals as quickly as possible. Our knowledgeable, caring professionals can guide you through a program that's right for you to increase strength, improve range of motion, relieve pain, and restore function.
Inpatient Care
If you are hospitalized, inpatient rehabilitation services are available at Atrium Medical Center, Upper Valley Medical Center and The Rehabilitation Institute of Ohio, a joint venture between Premier Health and Encompass Health. During your stay, your personalized care plan may include physical therapy, speech therapy, occupational therapy, and enrichment therapy, among others.
Getting Back to Your Life
Whether you're hospitalized or recovering at home, our certified team of rehabilitation therapists are prepared to help you. We have the knowledge, technology, and tools to restore movement, improve function, enhance independence, and maximize your quality of life.
And when your rehabilitation ends, you (and when appropriate, your family or caregiver) will have the skills and the knowledge to continue to improve and function at your best. That's because we believe education should be central to effective rehabilitation.
Atrium Medical Center Ranks 43rd Nationally
In 2021, Atrium Medical Center ranked forty-third in the nation for rehabilitation services by U.S. News & World Report. The honor is a testament to the outstanding rehab team who provides this level of excellence to patients each and every day.
Contact Us
Our rehabilitation team is ready to help you get back to the things that matter most in your life. We offer locations close to you throughout Southwest Ohio, in our hospitals and in outpatient facilities. Check out our list of locations, or call the number of the hospital near you to learn more about rehabilitation services in your area.
Locations
Find Premier Health locations offering Rehabilitation services.
View Locations
Providers
Find providers credentialed at a Premier Health hospital to provide Rehabilitation services.
Learn more
Practices
Premier Physician Network has Rehabilitation practices throughout Southwest Ohio.
View Practices