Larry's Story: Intensive Rehab Follows Motorcycle Accident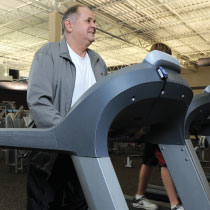 The first warm day in March inspired Larry Ford to take a ride on his motorcycle. His perfect day ended in a horrible moment — a truck crossed Larry's path and he crashed into the back of it.
Gary Cobb, MD, FACS, MS, trauma surgeon at Atrium Medical Center, was the first physician to examine Larry. CT scans showed he not only sustained several fractures but also had a small hematoma (gathering of blood cells) in his spleen. "He was pretty beat up, so we admitted him to the Intensive Care Unit (ICU) to monitor him," Dr. Cobb adds.
The most serious injury was a major fracture involving Larry's right knee. A week later, when Larry was stable, his surgeon placed metal plates and screws around the fractured bones of his right knee.
"Once I started getting better, I moved to rehabilitation," said Larry. The hard work of therapy had begun. Occupational therapists helped Larry work around his new physical limitations so he could feed himself, walk and dress himself. Physical therapists helped him work on regaining his range of motion and flexibility. Larry spent nearly two weeks in rehabilitation. The therapists' goal was to improve Larry's functions so he could succeed at home.
"I never realized all of this was at Atrium until I became part of it," said Larry. It took several physicians and multiple departments working together to care for Larry before he left the hospital. "I wish I could remember everyone by name to thank them because they literally saved my life."
Contact Us
Our rehabilitation team is ready to help you get back to the things that matter most in your life. We offer locations close to you throughout Southwest Ohio, in our hospitals and in outpatient facilities. Check out our list of locations, or call the number of the hospital near you to learn more about rehabilitation services in your area.