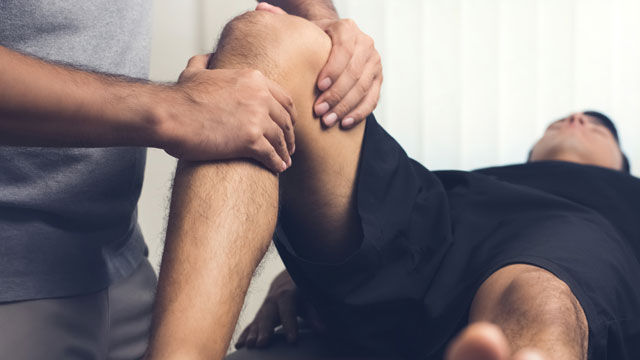 When painful joints, bones or muscles interrupt your life, Premier Health's team of orthopedic specialists is ready to help. Our goal is to get you back to the activities you enjoy with minimal disruption.
Whenever possible, we'll explore non-surgical treatment for your pain, including physical therapy, stem cell therapy, platelet rich plasma injections, and medications.

When surgery is needed, we'll aim for the fastest recovery by using minimally invasive procedures whenever possible.
If joint replacement is your best option, you can count on our experienced team of specialists to prepare you and your caregivers, from pre-surgery preparation through post-surgery rehabilitation. We offer robotic-arm assisted knee and hip replacement procedures, using ROSA® Knee and Mako SmartRobotics™, so your surgeon can create a customized plan based on your unique anatomy for a more predictable, precise surgery.
We have the knowledge, technology, and tools to treat your injury, reduce pain, restore movement, and get you back to the life you love.
Orthopedic Spine Services
Mar 8, 2019, 16:54 PM
Service Name :
Orthopedic Spine Services
Related pages :
Achilles Tendonitis
ACL Tear
Ankle Pain
Ankle Surgery
Arthritis
Back and Neck Pain
Carpal Tunnel Syndrome
Chronic Pain
Damaged Meniscus
Damaged Spinal Cord
Dysplasia
Elbow Pain
Fibromyalgia
Finger Injury
Foot Pain
Foot Surgery
Fractured Knee
Fractured Vertabra
Frozen Shoulder
Ganglion Cyst
Hand Injury
Hand Pain
Herniated Disc
Hip Pain
iFuse Implant
Joint Pain
Joint Replacement
Knee Pain
Knee Replacement
Muscle Weakness
Osteoarthritis
Plantar Fasciitis
Platelet Rich Plasma
Platelet Rich Plasma Injection
Ruptured Disc
Severe Leg Injury
Shoulder Pain
SLAP Tear
Slipped Vertebra
Spinal Cord Injury
Spinal Stenosis
Spine Fracture
Spondylolisthesis
Spondylosis
Stem Cell Therapy
Superior Labral Tear
Tendonitis
Tennis Elbow
Torn Meniscus
Torn Rotator Cuff
Trigger Finger
Triple Arthrodesis
Wrist Pain