New Technology, Better Quality Of Life Following Joint Replacement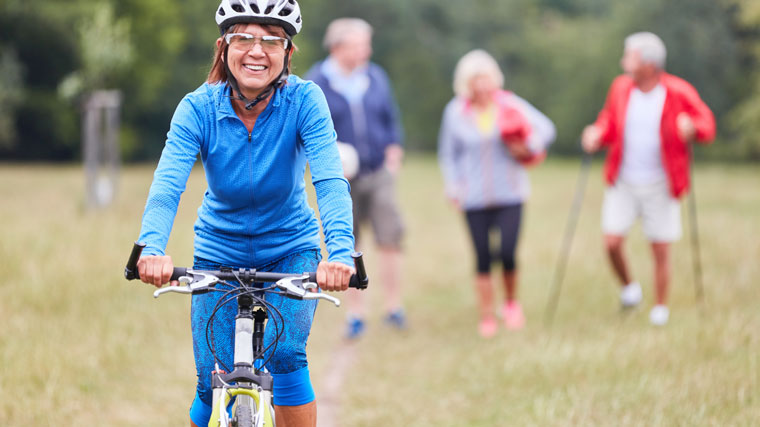 Find Your Perfect Match
Answer a few questions and we'll provide you with a list of primary care providers that best fit your needs.
If you're headed for a hip or knee replacement, you may have the advantage of what many surgeons consider the most advanced technology to come on the scene in the last 40 years.
Two new robotic-arm assisted surgical systems, now available to Premier Health orthopedic surgeons, can mean a more predictable, precise procedure and a more comfortable, longer-lasting outcome:
ROSA® Knee
Mako SmartRobotics™
Matthew Lawless, MD and Louis Okafor, MD, surgeons with Premier Orthopedics, describe the advantages and who makes a good candidate.
How Is Robotic-Arm Assisted Different Than Conventional Methods?
During conventional knee replacement, surgeons use guides to determine proper alignment of the new knee. Then they use jigs or cutting blocks to get the proper fit, explains Dr. Okafor. With the ROSA Knee and Mako SmartRobotics systems, alignment is automated. And the systems are able to make adjustments during the surgery, if necessary, to ensure a better fit.
This improved accuracy when positioning a new knee and its component parts can result in a more comfortable outcome for the patient. In addition to comfort, "the surgical precision enables us to re-establish a mechanical axis – a straight leg – which provides the longest lifespan possible for a new knee," Dr. Lawless explains.
How Does the Technology Work?
ROSA Knee uses data collected before and during surgery to inform your surgeon of details about your unique anatomy that may affect the way your implant fits. The system acts as your surgeon's robotic assistant. It uses a camera and optical trackers attached to your leg to know exactly where your knee is in space. If your leg moves even a fraction of an inch, the robot can tell and adjusts accordingly. This helps ensure that the plan your surgeon put into place is executed as intended.
Mako SmartRobotics provides data to help your surgeon create a personalized surgical plan. It identifies the best implant size, orientation, and alignment based on your unique anatomy. During surgery, the Mako SmartRobotics (which is also used for hip replacements) enables your surgeon to make any needed adjustments while guiding the robotic arm to execute the plan.
Overall, What Is the Goal?
The goals of joint replacement surgery are to relieve pain, help the joint work better, and improve walking and other movements.
"We want the patient to end up with a new joint that is balanced and functional," says Dr. Okafor. "And that's exactly what robotics offers: a way to precisely place the new joint and its components in order to get optimal outcomes."
Dr. Lawless adds that "total knee and total hip replacements do a great job of returning patients to a better quality of life. They provide patients with significant pain relief. That's why, regardless of the method used, they are so popular."
Is Robotic-Arm Assisted Surgery For Everyone?
"Any patient who is a candidate for conventional knee or hip replacement would also be a candidate for a robotic-arm assisted total knee replacement," says Dr. Okafor. "The technology really shines for patients with complex knees or hips, or deformities," he adds.
Robotic-arm assisted surgery may not be for everyone. "It takes a bit longer than conventional methods," say Dr. Lawless. "In some instances your surgeon may determine that conventional methods are better for you."
Find Your Perfect Match
Answer a few questions and we'll provide you with a list of primary care providers that best fit your needs.
Source: Matthew Lawless, MD, Louis Okafor, MD, with Premier Orthopedics; National Institute of Arthritis and Musculoskeletal and Skin Diseases