Stacia's Story: Standing Tall
Click play to watch the video or read video transcript.
Stacia Dawson survived a devastating loss and a life-threatening brain aneurysm.
As balloons drifted toward the sky at the end of her son's funeral, Stacia Dawson collapsed. Family and friends rushed to her side, thinking stress had finally taken its toll. But she wasn't coming around quickly, and didn't recognize her fiancé or her younger son.
Paramedics rushed Stacia to a Premier Health hospital. The quick, coordinated efforts of Premier Health's TeleStroke team helped save her life, says Bryan Ludwig, MD, neurointerventional stroke neurologist with the Clinical Neuroscience Institute.
Doctors determined Stacia had a brain aneurysm. She immediately was transferred to Miami Valley Hospital – the only Comprehensive Stroke Center accredited by the Joint Commission and the American Heart Association/American Stroke Association in the Dayton area.
"It was a very good thing she wasn't alone, or she may not have survived," says Dr. Ludwig.
The endovascular aneurysm repair Dr. Ludwig performed on Stacia took a little more than two hours.
"I was able to navigate through the arteries fairly quickly and place these little coils within the aneurysm safely, with excellent results," he says. "I knew by the end of the procedure that the aneurysm was cured, and the arteries that we were working in looked good, so I did not anticipate she would have any further injury."
A Family Affair
When Stacia was transferred to Miami Valley Hospital, Dr. Ludwig met with her loved ones to explain what had happened and how he would fix it.
"I appreciate the way Dr. Ludwig spent that time with my family, because it was a hard time for everybody," Stacia says. "They had all just left a funeral, and now they're at the hospital with me, so I appreciate the treatment and care that we received. I think I got the best care possible."
Stacia also was glad to learn that Dr. Ludwig spent one-on-one time with her son, Daelyn, who was 17 years old at the time. "They said (Dr. Ludwig) took some time to talk to him and, you know, explain things, so that was awesome to me," she says.
Daelyn expresses appreciation for the time Dr. Ludwig spent with him, as well.
"It was hard because my brother had just passed, and I thought my mom was going to pass," he says. "Dr. Ludwig had a good conversation with me explaining everything that he was going to do with her brain and everything during surgery, and I felt confident."
Dr. Ludwig believes that a big part of his job is communication. "Families are worried; they're scared; they don't understand this process," he says. "This is their loved one. This is somebody that means everything to them. This is a situation they've never faced before, and I try not to forget that."
Hard Work = Recovery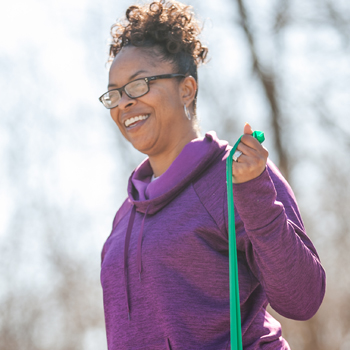 Stacia's prognosis is excellent, but Dr. Ludwig says his team will monitor her for years to make sure the repair holds up and nothing changes or needs attention.
"He fixed me," Stacia says with a bright smile.
In addition to physical therapy to re-learn how to walk, Stacia went through cognitive therapy, such as making lists, doing basic math problems, writing out words, and performing memory tests.
Miami Valley Hospital's rehabilitation staff knew Stacia's story, so they were patient with her, but also pushed her to recover, she says.
"They were like, 'You're doing so well, we want you to get everything back, we want you to be able to function like you did before.' They pushed me to work hard, but they all took excellent care of me."
Stacia now stands tall. "People keep telling me I'm blessed, and I believe it," she says.