Juston's Story: Young Firefighter Overcomes Aneurysm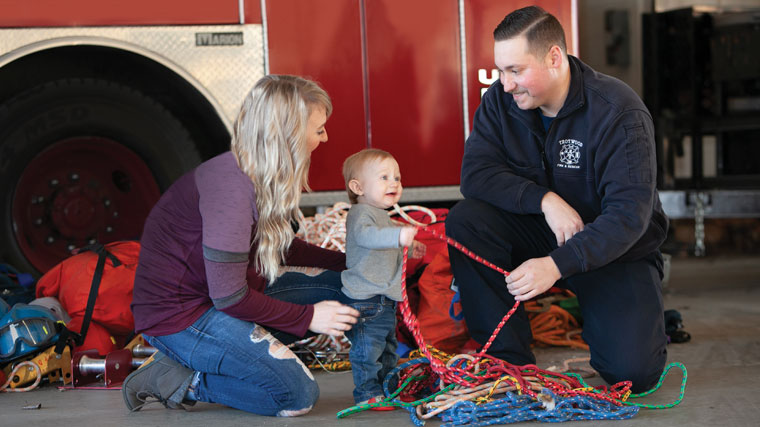 It was supposed to be an exciting time for Juston Theile and his girlfriend, Shelby. The couple had just learned they were expecting a child. Juston, a 27-year-old firefighter and EMT at Trotwood and Harrison Township Fire Departments, was leaving for work two days after learning he would become a father.
"I started up my motorcycle in the garage," says Juston. "When I got on the bike, I started feeling dizzy. I thought it was the fumes. I figured I would feel a little better once I got out of the garage."
Juston says he pulled out of his garage, remembering only that he had put his motorcycle in first gear. Nearly 10 minutes later, Juston regained consciousness, his motorcycle overturned on top of him in his driveway.
"I called my girlfriend and let her know what had happened," recalls Juston. "I told her that I probably needed to go to the hospital. I thought maybe I had a concussion. I started vomiting really hard at that point."
Shelby took Juston to Miami Valley Hospital North. "The doctor came in and did a stroke scale on me and said I had some bleeding going on in my head," says Juston. "At that point they put me in a trauma room and told me I would be taken to the main Miami Valley Hospital campus."
A Premier Health Mobile Intensive Care Unit transported Juston to Miami Valley Hospital in Dayton. There, he met John Terry, MD, a neurointerventional specialist.
"I was pretty worried about returning to work," says Juston. "I had just started my paramedic classes. I was worried about staying in school and being able to make it back to work. Most and foremost, being able to make it home and being able to see my family."
Dr. Terry reviewed Juston's neurological exam and determined he had suffered an aneurysm, which is a type of hemorrhagic stroke. This occurs when a blood vessel in the brain bursts or leaks. When this happens, blood pools in the space between the middle lining of the brain and the brain itself.
"His symptoms were not very severe when he came in, but the risk was high," recalls Dr. Terry. "Juston came in with a bad headache and drowsiness. He said he felt weak all over."
Dr. Terry and his team performed coil and pipeline procedures simultaneously on Juston. Dr. Terry said this was the first time he and his team had performed a pipeline procedure on someone with a ruptured aneurysm. The pipeline procedure consists of a catheter that is placed in the carotid artery, which supplies blood to the brain.
"There was a significant amount of risk in the procedure," says Dr. Terry. "What we do to treat patients with aneurysms is to limit damage. When someone comes in who's had an aneurysm that has ruptured and looks really good, those are the people who have the most to lose if you cannot secure it and keep the aneurysm from bleeding again."
Dr. Terry says Juston's young age and symptoms were unusual compared to other cases he has treated.
"It's very uncommon all the way around," explains Dr. Terry. "The appearance of the abnormality was very unusual. Typically, people coming in with that type of aneurysm, they're usually in their 40s and 50s, rather than in their 20s. It's not unheard of, but it's much more common in older people."
Juston stayed two weeks in the Intensive Care Unit before he was discharged from Miami Valley Hospital.
"While I was in the ICU, they stated how important it was that I got up and moved around and did therapy of walking, so I didn't get any blood clots," says Juston. "I got a six month and one-year checkup and there was no further damage."
After a full recovery from his aneurysm, Juston returned to work as a first responder in the Trotwood and Harrison Township communities. Just days after returning to his firefighter and EMT duties, Juston rolled up his sleeves and laced up his boots to help Trotwood families who lost everything in the Memorial Day 2019 tornadoes.
Juston is also back to enjoying hobbies such as hunting, fishing, and riding his motorcycle around the Miami Valley. Most importantly, Juston and his girlfriend are the proud parents of their son, Axel, who was born April 17, 2019.
"Being in the medical field, I see patients every day who have defects from previous strokes," explains Juston. "It really sat hard with me. Today, I'm able to enjoy the meaningful things in life thanks to the care from everyone from the X-ray techs to Dr. Terry and his staff."