Joyce's Story: Benign Brain Tumor Is Good News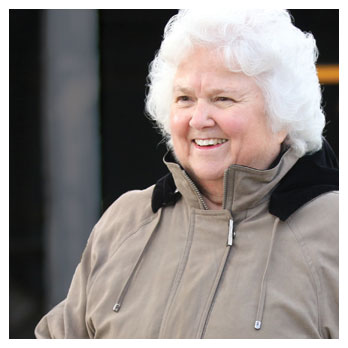 For Joyce Peters, the sweetest word in the English language is "benign." It's right up there with "grandkids" and "great-grandkids."

Joyce, 77, who still lives on the Shelby County family farm where she was born and raised, started having severe headaches in February 2014.

"We were spending a few weeks in Florida, and the headaches sent me to the emergency room," she recalls. "They found a mass in my brain. I couldn't wait to get back home."

After initial testing, her family doctor sent her to Miami Valley Hospital, where Joyce got news no one wants to hear. She had a meningioma, a tumor that arises from membranes surrounding the brain and spinal cord.

"I and my entire family were relieved to learn that most meningiomas are non-cancerous," says Joyce, a former teacher who is mother to four, grandma to 13 and great-grandma to four.

She and husband Richard saw neurosurgeon Ania G. Pollack, MD.

"Meningiomas occur mostly in older women and don't always require treatment," Dr. Pollack says. "A meningioma that causes no significant signs and symptoms may be monitored over time. But Joyce's meningioma was very large and was compressing important intracranial structures, causing severe headaches."

Dr. Pollack and Joyce decided that surgery was her best option.

"Very little can be done with chemotherapy for meningioma," says Dr. Pollack. "Surgery is often the first line of treatment in most of the brain tumors."

Joyce scheduled her surgery for after the celebration of her mother's 100th birthday. "I couldn't miss that!" she says.

Joyce was calm as she arrived for surgery at Miami Valley Hospital. "The doctors and nurses explained everything to me," she said. "I had good care, and everything I needed was under one roof, so close to home."

Like any brain surgery — especially one on a 77-year old woman with a history of heart attacks and high blood pressure — the five-hour procedure required Dr. Pollack to assemble the right people and equipment, including the surgical navigation system that gives the neurosurgeon a 3-D view of the brain.

"Joyce's case was a little more complicated because her meningioma had a very hard core that was in direct connection with a bone," says Dr. Pollack. "We have advanced techniques at our fingertips in the surgical suites at Miami Valley Hospital. I was able to disconnect the tissue and suction it out."

As predicted, Joyce's tumor was indeed benign. After hospitalization, she spent two weeks recovering in a nursing home, then returned to the family farm outside of Sidney.

"I'm grateful, so very grateful, that this turned out so well," Joyce says. "I am especially appreciative that I had a skilled surgeon. Now life is back to normal."

Normal – another sweet word.