Jasmine's Story: Hope for the Future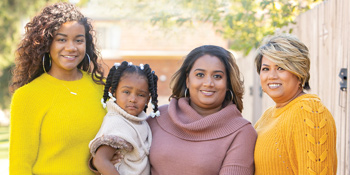 At 26 years old, Jasmine Figgins couldn't drive her daughter to preschool or take an easy jog in the park. She showered with the bathroom door open, in case she suffered an epileptic seizure – which sometimes occurred three or four times a day.

Under the care of Barbara Phillips, MD, neurologist at the Clinical Neuroscience Institute (CNSI), Jasmine was managing her epilepsy as well as possible, but her anti-seizure medication robbed her of energy and focus, and she couldn't pursue her dream of becoming a nurse. She feared she would never become a truly independent mother to daughter Jazlynn, then 3.

Jasmine found new hope for her future last year when she met Fadi Tayim, PhD, at CNSI. Dr. Tayim has created the first Brain Mapping Center in the Midwest, bringing together a multidisciplinary team of specialists, including surgeons, neuropsychologists, neurologists, and radiologists.

What Is Brain Mapping?

Brain mapping involves a series of highly specialized procedures that show how specific parts and networks of a brain are functioning. Mapping is conducted for neurosurgical patients for such conditions as brain tumors, epilepsy, and & movement disorders. It is also helpful for non-surgical conditions, such as multiple sclerosis and brain injury, because it helps to visualize how well a patient will respond to various treatments.

A frontal lobe brain tumor, for example, presents a high risk for language difficulties because it is the speech center for most people. By using various brain mapping techniques to target language, Dr. Tayim can see how close a tumor is to the language center. Mapping tells surgeons how much of the tumor can be removed safely, and to what extent language abilities can be restored after surgery.

"Mapping procedures can range from fun, interactive outpatient exams using brain games and puzzles, to more complicated procedures that use anesthesia to numb one side of the brain to measure the opposite side's level of functioning," Dr. Tayim says. "All of these show me how a patient's brain functions in real time."

Specialized Treatment Close to Home

Jasmine's brain was mapped to find the safest route during surgery for minimal complications.

"She had a particularly debilitating type of epilepsy that made functional independence almost impossible," Dr. Tayim says. "Learning skills at work was a challenge, and she has the added stress of being a mother to a wonderful little girl."

Dr. Tayim also used Diffusion Tensor Imaging, a functional MRI-based neuroimaging technique that's like a 3-D snapshot of the brain as specific to the individual as a DNA sample.

"In complex epilepsy cases such as Jasmine's, we wouldn't be able to see function without it," Dr. Tayim says.

The brain-mapping procedure calmed Jasmine's fears about potential complications, such as a stroke.

"I didn't feel like I needed to go anywhere else for my surgery," she says. "I had the best possible team right here in Dayton."

Premier Health's Brain Mapping Center is the first to have all highly specialized providers in one place, working as a single group throughout the care of the patient, and introducing new procedures to the Dayton region.

"Being a neuroscience hub in this region is really important because it's a one-stop shop for patients who otherwise needed to go to medical centers, sometimes hours away, for the same services," says Dr. Tayim.

A Bright Future

While Dr. Phillips continues to oversee Jasmine's ongoing epilepsy care, Jasmine has suffered only one seizure since her June 2017 surgery, and she has cut her medications in half.

"Now I can actually live and do things with my daughter," she says. "I have way more energy."

Jasmine jogs to the park every morning, and she plans to take her driver's test soon. She also plans to study nursing again. She calls herself a "walking testimony" to the life-changing benefits of the Brain Mapping Center.
"I never thought I would be so independent," she says. "I feel more free. I feel like I'm here."