Samantha's Story: Baby Love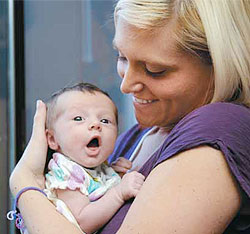 In September, Samantha Jackson came to the Atrium Medical Center Family Birth Center to deliver her baby. Being a first-time mom, Samantha was naturally a little anxious. "The nurses were all great," says Samantha. "Brandie was my main labor and delivery nurse. She was there when I first checked in and when I went into the labor and delivery room."
"As soon as patients step into our maternity center, they can see that we work as a cohesive team," says Brandie McGuire, RN. "Samantha was doing well laboring on her own, but then the fetal heart tones went down. I tried to reassure her while we did some interventions like changing her position and giving her oxygen," Brandie recalls.
While these interventions may be a routine part of labor and delivery, explaining them to a first-time mother while they're happening is important to keep her calm and the overall birth experience positive. "My doctor was there right away because the baby had her umbilical cord in a knot," says Samantha. "They had to use vacuum assistance to get her out."
Luckily, it was a relatively routine birth. Samantha needed a little assistance along the way, but mom and baby did well and went home healthy.
After the delivery of her baby, Samantha and her new daughter were moved to the postpartum wing of the Atrium Family Birth Center to recover and rest before returning home. "The patient/family rooms are large suites with ample space for visitors," says Brandie. "And there are no visiting hour limits, so grandparents and friends can stay as long as they want."
The staff at the Family Birth Center help new moms get comfortable with their new additions. "I really enjoy teaching them how to care for their babies," says Brandie.
After returning to her job at a grocery store, Samantha learned how to balance a busy work schedule with a new baby. She's settling into her new routine and loves being a mom to her beautiful baby girl.
Keeping You Safe During COVID-19
You will find new safety measures in place when you schedule appointments and come to our facilities — all with the goal of keeping you safe as we care for you.
Contact Us
If you're pregnant or thinking of becoming pregnant, call (937) 208-BABY (2229)(937) 208-BABY (2229) to speak with one of our knowledgeable maternity advisors. They can explain our services, help you find a physician or certified nurse midwife, schedule free tours, and provide registration for childbirth, breastfeeding, and family education classes.
Call today and let us help guide you through your parenthood journey. Visit our locations page to find a Premier Health maternity center near you and for additional contact information.