Jennie's Story: Return of the Midwife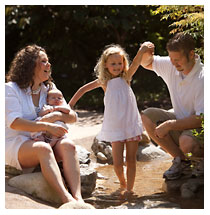 Jennie and Matt Hempstead enjoy taking their daughters to Wegerzyn Gardens MetroPark. Baby Justine joined the family in June after her midwife-assisted birth at Miami Valley Hospital's Family Beginnings.
When Jennie Hempstead was in the throes of labor, she appeared to be sleeping rather than preparing to bring a new baby into the world.
At least that's what her 5-year-old daughter Elise thought as she stood by her mommy waiting for her to continue the game the two had started earlier. Jennie created the game to keep her daughter close by while she progressed through the first two stages of labor in the comfort of her own bedroom. She did this by using a relaxation method called Hypnobabies.
While she was not planning on a medicated delivery, she was planning on a hospital delivery. "Once my upper lip started to shake with every contraction, I knew it was time to go to the hospital," Jennie says.
That's when Jennie's husband, Matt, got her into the car and drove as fast and carefully as he could to Miami Valley Hospital. Upon her arrival, Jennie was amazed to hear that her body was almost completely ready to birth her baby.
The staff at Miami Valley Hospital's Family Beginnings Birth Center had been waiting for her. They had prepared a room with dim lighting, soft music, and a water bath. But, perhaps the most welcome sight was that of the midwife who had guided Jennie through her entire pregnancy and was now ready to coach her through birth.
"The next thing I knew, I asked Margie how much further I had to go, and she told me to reach down and feel my baby's head."
While there was some uncertainty, the birthing process had unfolded exactly as Jennie had hoped. This time, she was in the driver's seat as her body progressed naturally through the stages of labor. Instead of being told what to do and when to do it, she got to choose what was best for her body and her baby.
Jennie says the birth of her newborn daughter Justine was a much better experience than that of her older daughter. The difference this time was her choice to use a midwife.

Choosing a Different Path
Today, midwifery is enjoying a resurgence as more and more women view labor and delivery as a natural process rather than a medical intervention.
Many hospitals are employing midwives to meet the demand, and at least one Miami Valley obstetrician is proudly championing midwives and offering their services to women from all over the tristate area.
Jennie saw an obstetrician when she was pregnant with her first child. She felt rushed at appointments and pressured at the delivery to do things according to cookie-cutter standards, instead of her body's individual need.
Because she didn't adequately understand the different stages of labor, she felt she was at the mercy of the medical team. She believes a doctor's decision to break her water eventually led to an unnecessary epidural to stop the sudden burst of pain.
"It was a domino effect of interventions," Jennie recalls. "I didn't know the different positions that could aid in childbirth, nor could I do them because of the epidural. The experience was disappointing because I didn't feel prepared."
She made up her mind to do it differently the second time around. So, when she became pregnant last year, she researched her options and was intrigued with the idea of having a midwife. Jennie found out about Stephen Guy, MD, at Women's Health Specialist and Midwives of Dayton.
"I found someone who understood what I was trying to achieve," Jennie says.
Dr. Guy has been an obstetrician for 25 years. He is also a clinical assistant professor at Wright State University Boonshoft School of Medicine. Ten years ago, he started working with midwives.
Dr. Guy's practice now includes several midwives who see patients and work with them from pregnancy through birth. Another OB doctor who shares his philosophy, Jeremy Crouch, MD,joined the practice.
Dr. Guy doesn't feel threatened by midwifery but instead has become its biggest champion. "It's a woman-to-woman kind of care," says Dr. Guy, who also serves as medical director of Family Beginnings. "It's personalized and low-tech."
"Once we started providing midwifery and not apologizing for it, our practice blossomed," he says. "We have had huge demand, and our numbers have tripled."
Besides offering comprehensive gynecological care, midwives oversee normal, low-risk pregnancies and are able to deliver babies through vaginal births. According to the American Pregnancy Association, up to 80 percent of pregnancies are low-risk, creating a large pool of women whom midwives are able to assist.
All of the midwives in Dr. Guy's office act as the primary caregiver for the pregnant women who come to the practice. Only when a medical complication in the pregnancy arises does Dr. Guy or his associate step in to care for the woman.
If a woman's pregnancy becomes high risk, the midwives working in a collaborative practice with Dr. Guy can continue to see the patient. She doesn't need to transfer to another practice, allowing the midwives to offer high-touch care along with needed medical interventions.
An Old Method Becomes New
Midwives have been synonymous with childbirth throughout history. The word is mentioned in the first book of the Bible when Rachel is comforted by her midwife. Over time, however, the role of the midwife, especially in developed countries, has changed.
By the early 19th century, upper-class women in the U.S. were opting to use physicians during childbirth. And as medicine gained legitimacy toward the end of that century, midwifery and home birth continued to decline in favor of obstetricians in a hospital setting.
Still, midwifery has endured and, in the past few decades, has seen a gradual upswing. The percentage of births attended by midwives increased steadily between 1975 and 2003 from less than 1 percent to 8 percent, according to a 2003 report released by the National Vital Statistics System.
Until the early part of the 20th century, midwives, like physicians, practiced without specific education, standards, or regulations. Today, midwives are registered nurses with additional education and training. Most have master's degrees and experience in critical care.
Margie received her training at Kentucky's Frontier School of Midwifery and then, like any other certified midwife in the U.S., took a board exam administered by the American College of Nurse Midwives. She is also licensed by the state. Midwives are identified as certified nurse midwives, or CNMs.
Berry Center for Women's Health
Most women become midwives for the very same reason women seek them out.
"What I like most is the relationship you can build with the patients," says Donna Gau-Jata, CNM, MSN. "Over time, you can make a difference in how they take care of themselves so they can be a healthier human being in the long run."
Donna is one of five midwives at the Berry Center for Women's Health. The center, which serves a high volume of underinsured women, hired Donna in 1991 to care for a small number of pregnant women struggling with drug addiction in the Born Free program.
The program's model of care worked so well, it was extended to more of the clinic's clientele. The nurse midwives working at the center care for 60 to 70 percent of the patients.
"We're the constants in the clinic," says Kitty Lowry, CNM, MSN. "We tend to sit down with patients and get involved with them, their lives, and their families."
And for many women, including Jennie Hempstead, that's all they want—someone who understands how their body works, cares about their well-being, and supports their birthing decisions.