Beth's Story: Expecting the Unexpected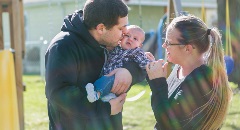 As many expectant parents do, Beth Hirn and her husband, Bryan, prepared a birth plan for their son Westin. But their plan was much more complex than most.

They met with specialists and toured neonatal intensive care units (NICUs); planned a C-section; discussed medical interventions; prepared for the fact that Westin might not make it; and more.

"We had our 20-week ultrasound with Westin, and our regular OB thought that he had a diaphragmatic hernia, so she sent us to the Maternal-Fetal Medicine team at Miami Valley," says Beth. The Hirns live an hour north of Dayton in Minster, but Miami Valley Hospital has the only maternal-fetal medicine facility of its kind in the region.

A diaphragmatic hernia meant that Westin had a defect in the muscle that divides the chest from the abdomen, Dayton Children's Hospital surgeon Arturo Aranda, MD, FACS, explains. "It is a hole that allows intra-abdominal organs to go up in the chest and causes a life-threatening situation for the baby," says Dr. Aranda.
To help expectant parents navigate high-risk pregnancies, the NICUs at Miami Valley Hospital and Dayton Children's Hospital work together through the Fetal to Newborn Care Center. This partnership of experienced Level III NICUs includes an integrated team of maternal-fetal specialists, high-risk obstetricians, neonatologists, and pediatric subspecialists. They provide comprehensive, coordinated care to women experiencing high-risk pregnancies or carrying babies who will need specialized treatment at Dayton Children's after birth.
"We've even further developed our professional relationship with the physicians at Dayton Children's, so we're very comfortable calling each other and discussing cases and coming up with the best plan of care for any particular patient and her baby," says David McKenna, MD, a Miami Valley Hospital maternal-fetal medicine physician.
Coordinated Care
Dr. Aranda says the Fetal to Newborn Care Center partnership decreases parents' anxiety. "It's a multi-disciplinary approach, and there is a lot of good communication. By the time the baby is born, the parents already know the steps of treatment that are going to happen."
Beth agrees. "It was very reassuring. When we went from Miami Valley Hospital to Children's, Children's already knew everything about us; everything about Westin. It was like they had been there since day one."
Sharon Orozco, the nurse navigator for the Fetal to Newborn Care Center, helps families walk through this complex and emotional time. She coordinates and schedules their appointments, answers questions, and more.
"I tell families that they call me the nurse navigator because I help them navigate a pregnancy that isn't what we thought it was going to be, or now is high-risk," says Sharon.
Beth describes Sharon as a stepping stone between specialists.
"There were just so many different appointments and so many doctors who needed to know about Westin's condition and wanted to let us know what to expect when he did come," says Beth. "Any questions we had, Sharon knew where to direct us or how to answer them."
A Happy Homecoming
Westin, born by C-section on the Monday of Thanksgiving week in 2017, transferred to Dayton Children's on Thanksgiving Day and had surgery to repair his diaphragmatic hernia the following day.
Dr. Aranda performed a minimally invasive surgery on Westin – making three almost needle-sized incisions instead of one large one – which meant less pain, a lower risk of future complications, and a faster recovery.
Westin's family, including older brothers Carson and Jettediah, finally experienced the excitement of bringing him home when he was almost 9 weeks old.
"It's just an excellent process and excellent doctors and nurses and everybody coordinating – we absolutely loved it," Beth says of the Fetal to Newborn Care Center. "We can't say that we want to do it again, but if we had to, we would do it with the same people."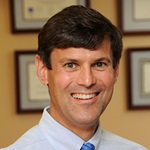 Keeping You Safe During COVID-19
You will find new safety measures in place when you schedule appointments and come to our facilities — all with the goal of keeping you safe as we care for you.
Contact Us
If you're pregnant or thinking of becoming pregnant, call (937) 208-BABY (2229)(937) 208-BABY (2229) to speak with one of our knowledgeable maternity advisors. They can explain our services, help you find a physician or certified nurse midwife, schedule free tours, and provide registration for childbirth, breastfeeding, and family education classes.
Call today and let us help guide you through your parenthood journey. Visit our locations page to find a Premier Health maternity center near you and for additional contact information.