Katherine's Story: Heart CT Scan Was 'an Eye-Opener'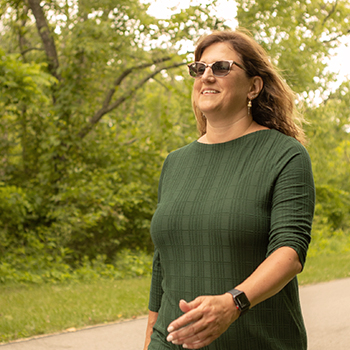 Katherine Cox is grateful for a piece of unsolicited direct mail she received one day early in 2019. It was a postcard from Premier Health touting the benefits of early screening for people who might be at higher risk of developing heart disease.
Katherine, in her early 50s, was already taking medication for high cholesterol and high blood pressure. In addition, her family had a history of heart disease. Her mother passed away at 74 from the effects of coronary artery disease, and her father, at 77, was under treatment for heart failure (CHF). Both parents had undergone open-heart surgery as a result of their heart ailments. Katherine recognized that she was a good candidate for the kind of early testing being offered: a Heart CT scan.
"Thinking about everything that my Mom went through, and now with my Dad being treated," Katherine says, "I thought I should probably get myself checked out to see where I stood, and to at least get a baseline."
Heart CT (CT stands for computerized tomography) is a special high-tech scan, using medical imaging equipment, that allows doctors to get a clear and detailed three-dimensional view of your heart and its blood vessels. Heart CT, also called a coronary calcium scan, measures the amount of calcium in the walls of your coronary arteries. Such calcium build-up contributes to the plaque that can narrow and block your blood flow and potentially lead to heart attack or stroke. Knowing your "calcium score" can help doctors predict your risk of a heart attack, even if you have no symptoms.
Katherine asked her primary care physician, Angela M. Kohnen, MD, of Beavercreek Family Physicians, if she recommended getting a Heart CT and learning her calcium score. Dr. Kohnen agreed it would be a good idea for Katherine to have the test, and it was scheduled through her parents' cardiologist, Mukul S, Chandra, MD, FACC, of Premier Cardiovascular Institute.
The test was performed at Miami Valley Hospital Medical Imaging in Beavercreek, and Katherine found the process quick and painless. "It was a breeze," she says. "They made me very comfortable, and I wasn't in there longer than 10 minutes."
When Katherine visited Dr. Chandra to discuss the test results, he told her the scan had found evidence of a problem. "He gave me my calcium score," she says, "and he said I had the beginnings of some buildup in two of the arteries near my heart. He showed me where it was on the scan."
Dr. Chandra told Katherine that she'd been wise to have the coronary calcium scan done. "He said that patients like me were the reason why they do this kind of screening," Katherine explains, "so that I wouldn't have to go through what my Mom and Dad did."
The benefit of having this knowledge at her age is that she can get the kind of care that will make a substantial difference for her, resulting in a more positive trajectory for Katherine's health issues and her quality of life.
In response to Katherine's Heart CT findings, Dr. Chandra made changes to her blood pressure and cholesterol medications. He recommended that she stay active and adopt a heart-healthy "Mediterranean" diet. He says, "I think a combination of diet, exercise, and statins has the real potential to reduce her risk of heart disease by 80 percent in her lifetime."
Katherine says having the Heart CT was an "eye-opener" for her and has motivated her to live a healthy lifestyle. She also plans to continue working with Dr. Chandra through the years to try to prevent any more buildup in her arteries.

Is a Heart CT Scan Early Screening Right for You?
You could be at increased risk for having a heart attack if:
Heart disease or stroke runs in your family
You've ever been told your blood pressure or cholesterol levels are high
You smoke
You have diabetes
A family member has had a heart attack under the age of 65

Schedule Your Heart CT
A Heart CT can allow early detection and treatment of heart disease. If you think a Heart CT scan might be right for you, there are two easy ways to schedule a Heart CT. No physician referral is required.
Call

(855) 887-7364

(855) 887-7364 to talk to a member of our scheduling team
Contact Us
Every moment of your life depends on a strong, healthy heart. The Premier Health cardiology and vascular services team is here to help you, each beat of the way, with prevention, diagnostic, treatment, and rehabilitation services in our hospitals, outpatient centers, and medical offices across Southwest Ohio.