Judy's Story: Regaining Independence After Cutting-Edge Procedure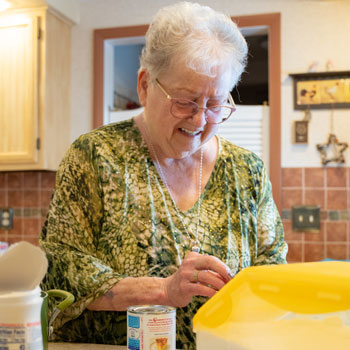 Judy McCormick is soaking up every minute of her retirement. The 75-year-old retiree had a 40-year career, most recently working as a logistics management specialist at Wright-Patterson Air Force Base.
Judy enjoyed the outdoors and gardening at her home in Arcanum, but health problems began to interfere with many of those pastimes.
"I have smoked since I was 16 and also have diabetes," says Judy. "I didn't have much stamina in doing activities for long periods of time. I eventually lost interest in doing the things I enjoyed."
Judy said her legs began to ache and the pain she endured kept her from walking extended distances.
After giving up smoking and combating excruciating pain in her legs, she consulted her primary care physician to see if something could be done.
Judy was diagnosed with peripheral artery disease (PAD), a condition in which there is narrowing in a person's peripheral arteries — the arteries leading from the heart to the head, arms, stomach, and legs.
"They found blockages in the artery behind my knee," Judy recalls. "I wanted to regain my freedom and felt like that would never happen with the pain I experienced."
The narrowing of arteries in PAD is caused by atherosclerosis, the buildup of plaque along artery walls from fat, cholesterol, calcium, and other substances carried in the bloodstream.
After more than a decade of procedures, Judy was referred to cardiologist Gary Fishbein, MD, with Premier Cardiovascular Institute in 2013.
"Over time, Judy has renarrowed arteries that we've treated," says Dr. Fishbein. "She has also dealt with new blockages. Most of what I have worked on has stayed open, but the artery continues to become blocked at the level of her knee."
The blockage behind Judy's knee continued to hinder her mobility. "When I saw her in late August 2019, she had pain in her right foot and could only walk about 25 yards before she had to stop," Dr. Fishbein recalled.
Judy's pain and medical history made her a candidate for a new procedure for PAD patients offered by Premier Health. In September 2019, Judy became the first patient in Ohio to undergo a procedure that offers cardiologists a better view and easier access to smaller vessels in the legs.
The Pantheris Small Vessel (SV) procedure is advanced atherectomy technology offered by Avinger, Inc. and was approved for use by the Food and Drug Administration in April 2019. An atherectomy is a minimally invasive treatment for PAD utilizing a catheter-based device to remove plaque from a blood vessel.
"This is laser-assisted technology that allows us to see layers of the artery," says Dr. Fishbein. "This allows us to clean the plaque out of the artery to allow more blood flow." Pantheris SV is for use on patients with smaller arteries of two to four millimeters, while other devices are for arteries measuring four to seven millimeters.
Dr. Fishbein says most of his patients go home the same day and are walking just hours after the Pantheris SV procedure.
"We have improved technology to reduce the likelihood of repeat procedures, but they can still occur," says Dr. Fishbein. "Even with the best of hands and the advanced technology we have available, the chance of a repeat procedure is between 16 to 20 percent. It is almost never a 'one-and-done.' PAD is a chronic problem that has to be treated and followed." The Pantheris SV procedure at Premier Health gave Judy her independence, something she said she hasn't experienced in several years.
"Before I couldn't walk through the grocery store. Now with my walker, I can walk through the whole store," says Judy. "I never thought I would ever get my freedom back. I thought I would end up in a wheelchair. But with this, I don't have to have that and I'm fine."
Judy says this procedure saved her legs and gave her the opportunity to get back to enjoying the hobbies that she loves.
Contact Us
Every moment of your life depends on a strong, healthy heart. The Premier Health cardiology and vascular services team is here to help you, each beat of the way, with prevention, diagnostic, treatment, and rehabilitation services in our hospitals, outpatient centers, and medical offices across Southwest Ohio.