Ned's Story: Skiing Accident Didn't Keep Him Off the Slopes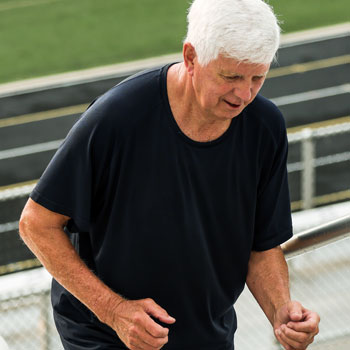 Age is just a number to Ned Myers. The 81-year-old from Centerville lives an active lifestyle – running steps at the local high school football stadium, riding 20 miles on his bicycle, playing pickleball, and hitting the slopes at a ski resort in Vail, Colo.
"I took an early retirement and decided I might just go out to Colorado for a winter," explains Ned.
Ned's plan to spend a season in the Centennial State has grown. He has been going out West for many years, even finding unique ways to stay on the slopes.
"I decided to drive a shuttle bus at the ski resort in the winter – just to get the employee ski pass," says Ned.
In March 2020, Ned's time on the slopes came to a screeching halt when he fractured both his tibia and fibula in a skiing accident.
"The doctors in Colorado put in three plates in my leg," explains Ned. "The main fracture in the tibia never healed."
Ned says he was immobile for several months after his first surgery.
"From March to August, I was on a knee scooter," says Ned. "I could get around some, but not very well."
Once he returned home to Ohio, Ned decided to have a consultation with Jennifer Jerele, MD, a board-certified orthopedic surgeon who is fellowship-trained in orthopedic trauma care at Miami Valley Hospital.
"When Ned came to us, he was still having a significant amount of pain in his leg," says Dr. Jerele. "He complained that when he would do high-intensity activities his leg would swell, and it would be extremely uncomfortable."
Dr. Jerele and Ned decided the best way to get him back on his feet was to remove the plates and screws in Ned's leg and install other medical hardware. During the procedure, Dr. Jerele would also clean out where the bone had not healed and place bone graft to help heal Ned's leg.
"Ned's case was pretty complex, because he came to us quite a while after he had his first procedure in Colorado," explains Dr. Jerele. "It was challenging, as sometimes in these cases we have a revision case or bone that hasn't healed."
The next day, after surgery, Ned was out of his hospital bed and walking with the assistance of a walker.
"When they told me I could get out of my hospital bed, I was a bit leery," remembers Ned. "But it worked out fine. I was on the walker for about two weeks, and I've been mobile ever since."
Just a few months later, Ned is back to enjoying the activities he loves.
"I'm very much a proponent of cardiovascular workouts for everybody," says Ned. "I think it's a great health benefit and also a stress reliever."
Ned credits Dr. Jerele and her team for getting him back on his feet – and back on the slopes.
"Ned is the ideal patient," explains Dr. Jerele. "He proves that age is simply a number. I'm so pleased he has been able to get back to doing everything he wants to do."
"Last summer, I thought my skiing days were over," says Ned. "If it weren't for the team at Premier Health, I'm not sure what I would have done. I plan on getting back on my skis soon."