Maps and Parking
Wyoming Street Construction Project
On Monday, June 8, the City of Dayton will begin a pavement replacement construction project that will result in one-way traffic flow for a few months. Our facility team is working with the City of Dayton to ensure minimal disruptions to the emergency department and surgery parking garage. External signs are posted to assist you in navigating Wyoming Street during this construction project.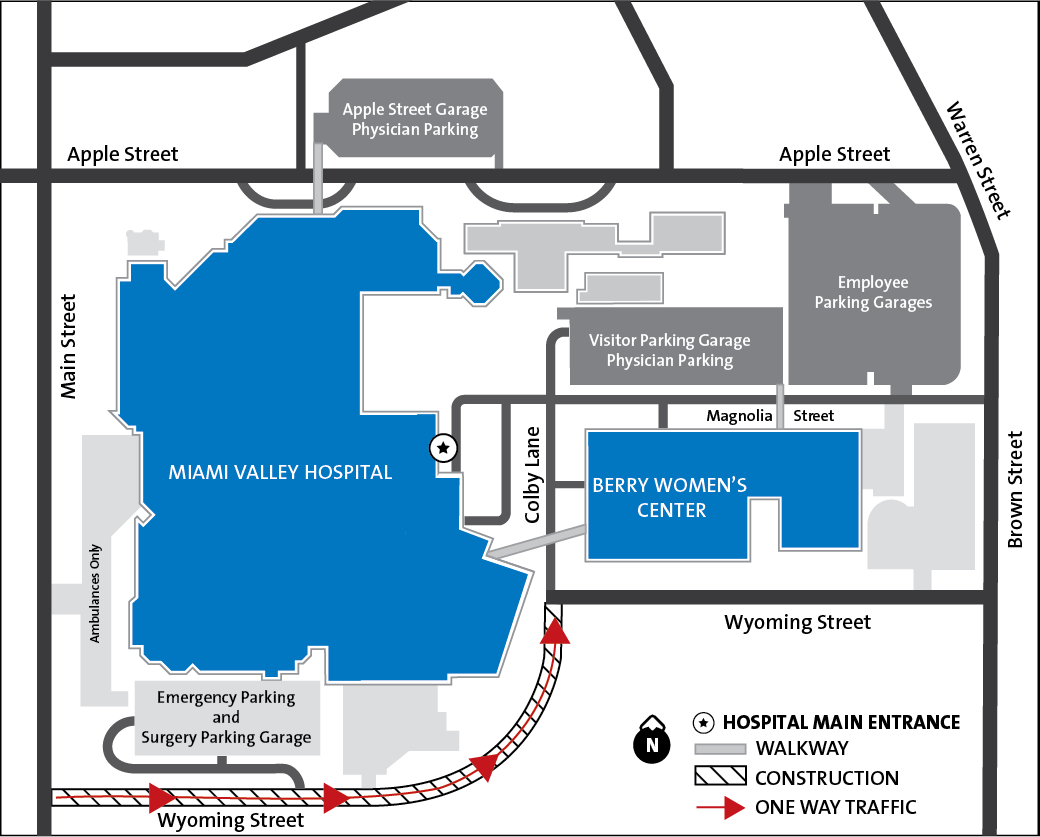 Campus and Building Maps
Digital campus maps are now available to help patients and visitors navigate their way to any location within Miami Valley Hospital. Campus Maps provide interactive wayfinding that is searchable, linkable and user-friendly on any smartphone, tablet or computer. The maps are web-based, so all you need is an internet connection to access them – there is nothing to download or purchase.
With Campus Maps, you can:
Plan for your hospital visit, including the best place to park and the best route to where you need to go
Make it easier to navigate the hospital and locate your destination
Find cafeterias, coffee, gift shops and other amenities, such as ATMs and vending machines, when you're at the hospital
Search by a room number or unit name to quickly find a loved one
Track your location to guide you to your location as you move through the hospital
Specify if you need wheelchair accessible routes
Share directions with family and friends who may be joining you at the hospital
Miami Valley Hospital has several conveniently located parking garages. Our main garage is located near the main entrance of the hospital. It can be reached by following Wyoming Street into the main entrance of the hospital. The Apple Street garage is located on Apple Street and has a walkway for easy access to the main hospital.
Please note that Wyoming Street is restricted to one-way traffic beginning June 8.
Note: The surface parking lot between the Apple Street garage and Main St. is privately owned. A garage located off Wyoming Street is reserved specifically for patients and visitors using our Emergency Trauma Center and Surgery Center services. Please look for our signage to all of these parking facilities.

Costs

Miami Valley Hospital's daily parking rate is $3 regardless of the amount of time you are at the hospital.
Discount parking tokens (10 for $10) are available for purchase during hours of operation in the Cashier's Office or at the attendant booths in the main and Apple St. garages. These tokens have no expiration date. You may also purchase an unlimited two-week parking pass for $20 in the Campus Police Office Monday - Friday, 7:30 a.m. to 4 p.m.
Special Services
If you or your visitor have difficulty walking to and from the garage, please use one of the telephones located in the elevator lobby of the garage to request wheelchair assistance.
Security escort service is also available. If you need assistance, use the telephones located in the elevator lobby or ask one of our information desk representatives.

If you have any questions about our parking policy, please contact the Department of Consumer Relations at (937) 208-2666(937) 208-2666.

Learn more with our digital campus map.
Bus Transportation
To reach Miami Valley Hospital, take the #5, #7, #11, #14, #16, or #17 bus. Visit iriderta.org or call (937) 425-8300(937) 425-8300 for the most up-to-date routing information.