Cindy and Ben's Story: By the Numbers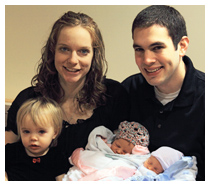 Cindy and Ben Hill didn't plan on a 12-12-12 birth date for their twins, let alone the 12:12 p.m. arrival for their first-born, Benjamin Joseph Hill III, at Upper Valley Medical Center (UVMC).
They're thrilled, though, by the once-in-a-century good luck associated with such numerical alignments and, even more so, by the addition to their family of healthy Benjamin and sister, Anabelle Rose. She arrived at 12:13 p.m.
Cindy originally was scheduled for a Cesarian section by Katherine Bachman, MD, on Dec. 18, the birthday of their grandfather, Benjamin Hill I. The babies, though, had different plans.

Cindy started having contractions the evening before and headed in to a scheduled appointment with Dr. Bachman the morning of Dec. 12. She was sent immediately from the office to the UVMC maternity center. It was just after noon when the surgery began.
As the babies started to be delivered, the arrival time was noted as 12:12 p.m., Ben recalls. "Once it was within a minute (of 12:12 p.m.), it was like, OK. It was going to be within a minute or two of that," Cindy says of her son's special arrival time. Anabelle followed quickly but missed 12:12.
"I think it is really cool they picked the day themselves," Cindy says of the children's arrival. "They both get 12-12-12. He gets the exact minute."
Clearly, unique dates run in the North Star couple's family: Ben was born on 8-8-88 and weighed 8 pounds. The Hills were married on 12-11-10.
Ben admitted a special attraction to numbers. He always considered eight as his lucky number. "It was always my number in sports. I also have an affinity for even numbers. I don't know if it is because of eight or what," he says.
The couple has another daughter, Mariah, age 15 months. Cindy is from North Star, while Ben is from Shaker Heights, Ohio. They met while students at The Ohio State University and celebrated their second anniversary Dec. 11.