Jim and Linda's Story: "Our Life Has Been Improved So Much"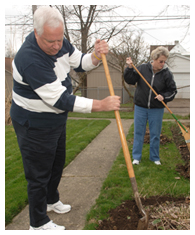 Dr. Robert Malarkey's orthopedic surgery skills have come in handy more than once for Jim and Linda Hemmert of Piqua, Ohio. "He just keeps putting me back together," Jim said with a laugh.
Jim first met Dr. Malarkey in 1993 when he was taken to the Piqua Memorial Medical Center emergency department after falling 11 feet from a ladder. Jim suffered three broken bones in his left hand, but the story was far worse for his shattered right hand and wrist. Dr. Malarkey ended up doing more than four hours of surgery to put Jim back together.
The two crossed paths again a few years later when Jim, an avid bicyclist, went over the handle bars and broke a thumb. Dr. Malarkey and Jim met again when Jim hit a pothole on the street and broke his arm in three places. Last fall, an accident on the bike trail left Jim with a partial tear in the rotator cuff. Again, Dr. Malarkey was called up and helped him through that injury.
Jim, however, wasn't the only family member taking advantage of Dr. Malarkey's talents.
His wife, Linda, turned to Upper Valley Orthopedics when arthritis in her hip basically knocked her off her feet.
Although their daughter lived only four houses away, Linda, once a walker, could barely get to the house on foot. "She was taking 10 to 12 pain pills a day," Jim said, adding Linda no longer was able to join him in doing yard work. "It was really bad. I was in pain, but didn't realize it was to that extreme," Linda said.
In 2007, Linda met with Dr. Malarkey, shrugging off suggestions by acquaintances who told the Hemmerts that she would need to go to Dayton or Columbus for surgery. "I said, 'If he can put my husband together, he can fix my hip,'" Linda recalled.
Her first surgery, in October 2007, was followed by four days of in-hospital rehab before Linda and Jim then worked together on her exercises at home. Seven months later, Linda was back for surgery on the second hip.
The Hemmerts praised Dr. Malarkey for his skills, including communication with patients. "He talked us through this thing so well," Jim said, adding the couple wouldn't hesitate to visit Upper Valley Orthopedics again if the need arises. "I say, 'At least I'm healthy enough to keep getting in trouble.' They keep fixing me," Jim said. "I don't break anything. I am a little more careful with what I do," Linda added with a laugh.
"The hip replacement surgeries have been a blessing for our life, companionship and Linda's ability to do things. Now, she doesn't have so much pain," Jim said. They again can share experiences such as gardening together and relaxing on their front porch, that were interrupted by Linda's years of arthritis. "Our life has been improved so much," Jim said.