David Castle, PA-C, MPAS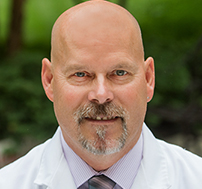 David Castle earned his bachelor's degree from Kettering College of Medical Arts, graduating magna cum laude, and his master's degree from University of Nebraska-Lincoln Medical School.
In his role as physician assistant, David supports multiple specialties including intervention, neurosurgery, and stroke, and currently serves on the Neuro Critical Care team. He strives to provide comprehensive assistance where the need is greatest. Prior to joining the Clinical Neuroscience Institute, David worked in emergency medicine and is a U.S. Army veteran.
David also has degrees and certificates in automotive technology, having owned and operated an auto repair business for more than 30 years. His hobbies include auto collecting and restoration, building houses and outdoor structures, metal welding, and creating steampunk artworks. David is certified as a master diver and in underwater rescue.