When Health Care Goes to the Dogs: Celebrating the Canine-Human Connection
Find Your Perfect Match
Answer a few questions and we'll provide you with a list of primary care providers that best fit your needs.
When Charles M. Schulz famously wrote in his Peanuts comic strip that "Happiness is a warm puppy," he not only tapped in to a sentiment shared by dog lovers everywhere, but he also pointed to the idea that dogs can and do play a significant role in improving our psychological health.
In honor of National Puppy Day on March 23, Premier Health Now took the opportunity to speak with neuropsychologist Fadi Tayim, PhD, of the Clinical Neuroscience Institute to learn more about the science behind the special bond between canines and their humans.
A Patient's Best Friend
"There are numerous studies that have been published over the past 10 to 15 years discussing the psychological benefits of animal companionship," says Dr. Tayim. "Though this could include a number of animals, dogs in particular are taking on greater roles in medical settings."
From a scientific standpoint, Dr. Tayim explains that the gentle, reassuring presence of a dog stimulates the pleasure and reward centers in our brain's frontal lobe to create a positive emotional response and evoke a sense of well-being. As a result, hypoallergenic hybrid breeds such as the popular goldendoodle (pictured here with Dr. Tayim) are being used more and more frequently as therapy dogs in a variety of clinical settings to help calm and comfort patients.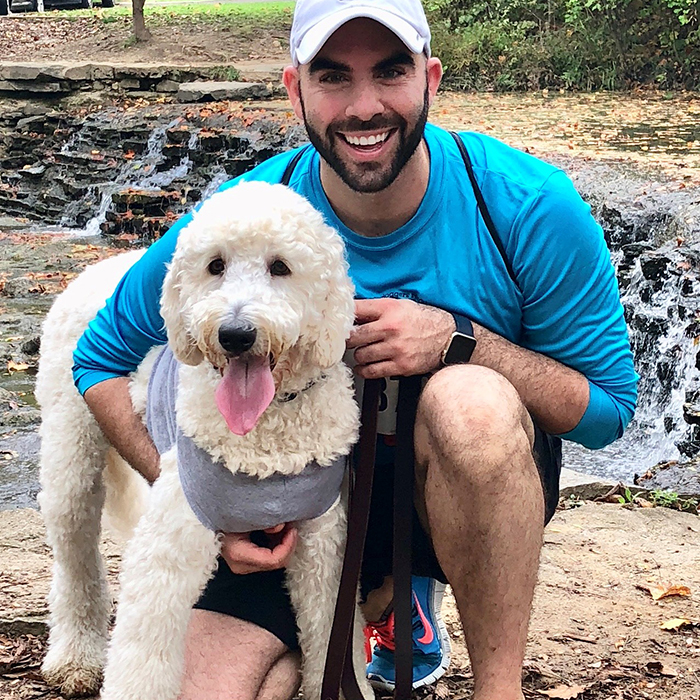 "It's a fantastic service you can provide for patients while they're waiting to get their infusions or while they are waiting for their chemotherapy and radiation treatments," says Dr. Tayim, who himself is currently getting his own goldendoodle trained to provide therapy to patients. "Just being in the presence of a therapy dog simply makes people feel better. The dogs love it because they are able to really provide that type of relief and comfort in a way that clinicians sometimes can't in a hospital environment."
Patients at Premier Health hospitals benefit from therapy dogs who visit with their humans. Learn more about becoming a pet therapy volunteer with your canine friend at Miami Valley Hospital and Miami Valley Hospital South, Atrium Medical Center and Upper Valley Medical Center.
Find Your Perfect Match
Answer a few questions and we'll provide you with a list of primary care providers that best fit your needs.
Source: Fadi Tayim, PhD, Clinical Neuroscience Institute