On-Field Cardiac Arrest: 'One Of Scariest Things You Can See'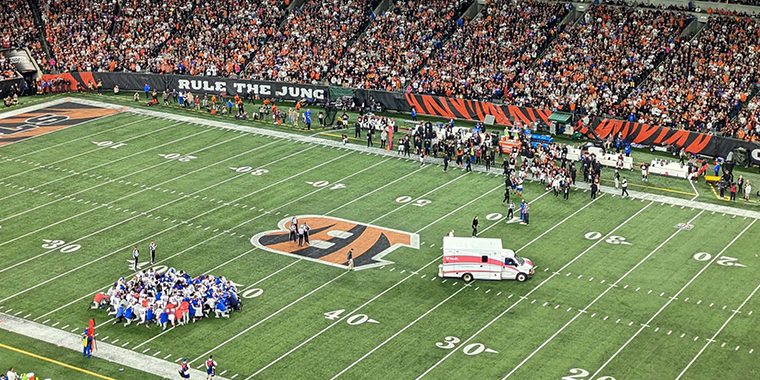 Find Your Perfect Match
Answer a few questions and we'll provide you with a list of primary care providers that best fit your needs.
The buzz of excitement that surrounded Monday night's NFL game in Cincinnati came to a tragic halt when Buffalo Bill's safety Damar Hamlin collapsed on the field. After a tackle, Hamlin got to his feet, but quickly fell back to the turf, seemingly unconscious.
The flurry of medical attention that immediately followed likely saved Hamlin's life, says Jeffrey James, DO, an orthopedic sports medicine physician who serves on the sidelines as team physician for the University of Dayton and Centerville High School. (Hamlin remained hospitalized in critical condition on Wednesday.)
"It's one of the scariest things you can ever see from the sidelines," says Dr. James of a collapsed athlete.
Sudden Cardiac Arrest Can Have Several Causes
"Sometimes cardiac arrest can be a structural problem, a blockage of blood flow. Other times it can be a condition called commotio cordis, which occurs from a direct impact to the chest during a specific time of the heart cycle causing the heart to go into abnormal rhythm. Or it could be another underlying problem that causes the heart's electricity to go haywire."
Regardless of the cause, Dr. James says it's clear the medical staff at the Bengals/Bills game knew what to do. "Especially at the NFL level, they're practicing emergency situations like this all the time. They knew it was serious right away. They were literally right on it, calling for the ambulance, getting everybody out there immediately."
Standard Of Care When the Heart Stops
Although television cameras couldn't show what was happening, Dr. James surmises: "Seeing that his heart stopped, they'd start CPR immediately while others are getting him prepped for an AED (automated external defibrillator)." Immediate and ongoing CPR is vital, Dr. James explains, because if your blood is not circulating, your body and brain are not getting life-giving oxygen. "The longer your brain and heart are without oxygen, the more likely you're going to have some permanent damage." The firm, hard compressions of CPR help the body circulate oxygenated blood and prevent damage.
"After cutting off his jersey and shoulder pads, they'd get those AED pads on him next," says Dr. James. Assuming those efforts restarted Hamlin's heart, "it's not uncommon to intubate the patient to keep his airway open, and to cool the body down for 24 hours or more in order to slow the body's metabolism and save as much tissue as they can between the brain, the heart, and everything else."
Find Your Perfect Match
Answer a few questions and we'll provide you with a list of primary care providers that best fit your needs.
Sources: Jeffrey James, DO, Premier Orthopedics; CBS Sports