Build a Routine For Your Family's Quarantine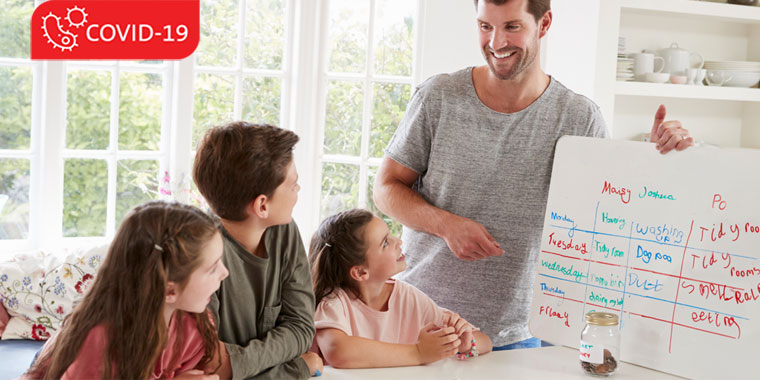 Find Your Perfect Match
Answer a few questions and we'll provide you with a list of primary care providers that best fit your needs.
How we deal with the unknowns of the coronavirus COVID-19 stay-at-home orders can make us stronger – as individuals and as families.

To learn how to manage our time and expectations, we talked with Steven Green, violence prevention specialist at Samaritan Behavioral Health.

"Don't wait for stress, fear, doubt, and division to creep into your home," Green says. "Be proactive."

You can do this by creating a routine with your family that keeps everyone busy.

"You want to create something similar to a school routine, but with flexibility to allow for constant changes in schedules and family dynamics," Green says. "And remember to leave time to focus on your own physical, emotional, and spiritual health, too."

Here are some tips for creating a schedule:
Make a list
Write down everything you need to get done each day
Include chores like laundry and meal prep, plus time to relax
Schedule time for each task
Include time for reading or being read to each day.

"Give your kids an opportunity to share what they heard or read," Green says. "These valuable lessons will build strong social skills."

Plan to work on some tasks as a family. Green suggests thinking about age appropriate lessons you can share with your child. By working as a team, you can teach meaningful insights in informal and fun ways.

Planning and preparing meals. Together can teach math or how to follow directions as you read a recipe.

"You can discuss food choices and why it's important to eat a well-balanced meal," Green says.

This extra time at home provides a good opportunity to discuss safety, too. You can:
Practice fire drills and review the safest way out of the house during a fire
Discuss emergency procedures:

When do you call 911?
Who are trusted adults to call?
Post all emergency phone numbers in a highly visible place
Which house do we go to for help?
Need ideas for staying busy? Here are 20 activities for all ages:
Assign older kids the task of cooking dinner one night each week.
Bake cookies and other treats.
Build a fort and use it for play or as a reading nook.
Build puzzles together.
Check in with older kids on how they're doing. Make sure to listen fully. Being stuck at home can be difficult for teenagers.
Create a journal to capture this unusual time.
Create an obstacle course in your backyard using items you have on hand.
Color in coloring books or on downloaded coloring sheets.
"Draw" pictures on the walls with flashlights. See if others can guess what they are.
Fill plastic bins with seasonal/themed sensory items to explore.
Make a painter's tape maze on the carpet, for use with toy cars and trucks.
Make homemade crafting dough (see recipe below) or slime.
Mail hand-drawn pictures or cards to Meals on Wheels providers or residents of local nursing homes.
Plant seeds in cups and set in a sunny spot to get an early start on the summer vegetable garden.
Play board games.
Practice writing skills by becoming pen pals with friends.
Take a walk outside or go on a hike.
Use Zoom, FaceTime and other apps to connect with family and friends.
Using a whiteboard or pad of paper, let your child teach you. This is a great way for them to practice their own skills and retain knowledge.
Watch old family movies or look at family photo albums. Talk about your family history and fun memories.
Featured Recipe
Find Your Perfect Match
Answer a few questions and we'll provide you with a list of primary care providers that best fit your needs.
Source: Samaritan Behavioral Health; Steven Green, violence prevention specialist, Samaritan Behavioral Health