Breathing Lessons: Learning To Exercise With Masks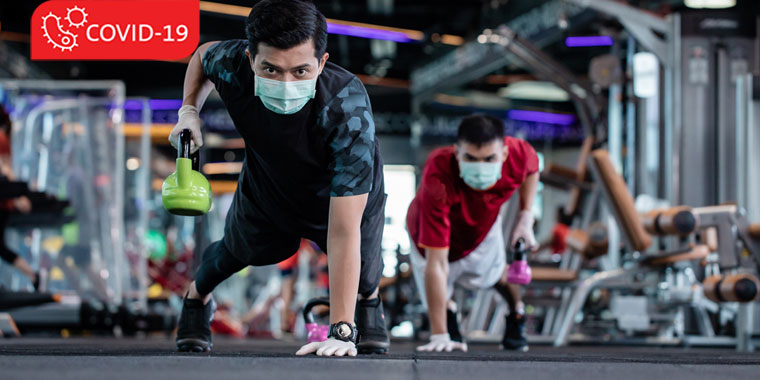 Exercise, always an important tool for physical and mental health and fitness, has become even more relevant in the age of COVID-19 as we battle the inactivity of a quarantined lifestyle.
As lockdown restrictions have eased, thankfully opportunities for exercise have increased. However, with face masks required in most social settings, adjustments have also been necessary. Premier Health Now spoke with family medicine and sports medicine specialist, Karen Shafer, MD, JD, with Premier Orthopedics, to understand how to coordinate and balance mask-wearing requirements with exercise.
Striking a Balance
As public health guidelines continue to evolve in the effort to reduce the spread of COVID-19, Dr. Shafer explains that the best practices for masks are fairly simple, even when it comes to exercise.
"Basically, you should always wear a mask in an enclosed or indoor setting such as a health club," says Dr. Shafer. "Masks should also be worn when you're outside in a crowded setting or unable to maintain at least six feet of social distancing from other people."
Dr. Shafer also explains that you may not need to wear a mask if you are exercising outside where others are not nearby. Certain sports that allow for significant spacing and social distancing, such as tennis or golf, may also allow people to forego mask use. Lastly, an individual workout in a private setting would also not require the use of a mask.
"It's important to understand that not every mask is ideal for exercise," says Dr. Shafer. "Masks that are made out of more absorbent materials will likely hold up better during exercise. Surgical or paper masks may be less conducive for use during exercise as they may become saturated with moisture from perspiration. It's helpful to always have an extra mask or two available in case the one you use while exercising becomes too wet or sweaty and needs to be replaced."
Patience with the process is vital no matter what material a mask is made of, since exercise inevitably increases your heart rate and breathing. Dr. Shafer suggests getting comfortable wearing a specific mask during normal activity long before starting an exercise routine. She suggests gradually easing into a new exercise routine with the mask once that initial adjustment is made.
"As with any new activity, it's always important to start slowly and to gradually increase the time and intensity of your workouts, building up your endurance and tolerance," says Dr. Shafer. "Starting with lower intensity activities, such as walking, and then progressing to higher intensity activities is a good way to get started."
Sources: Karen Shafer, MD, JD, Premier Orthopedics