Pickleball Safety For The Weekend Warrior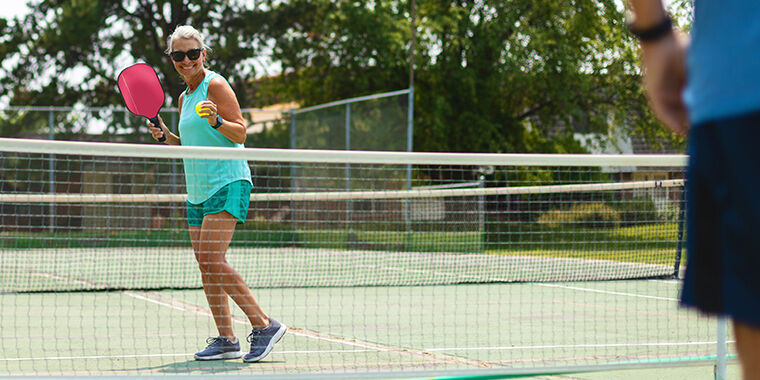 Find Your Perfect Match
Answer a few questions and we'll provide you with a list of primary care providers that best fit your needs.
Pickleball has become one of the fastest growing sports in the United States, which may be easy to understand since this unique hybrid of tennis, ping-pong, and badminton is easy to learn and widely accessible for players of all ages.
As enthusiasm and participation grows, so does the risk of injury, particularly as many older Americans decide to pick up a racket and head out to their closest court.
Pickleball's increasing popularity is certainly encouraging since it means that more and more American's are getting exercise. However, sports medicine specialist and orthopedic surgeon, Eric Fester, MD, does offer some important precautions for anyone who is itching to get out there and play.

Moderation and Preparation
Dr. Fester notes that tennis is currently responsible for creating more serious injuries than pickleball, perhaps due to its larger court size, but that doesn't mean that they can't or don't occur, especially if one is new to the sport.
"It's more common to see a variety of sprains and strains with pickleball," says Dr. Fester. "In those cases, something as simple as rest and applying ice to the injured area may be all that is needed. Taking an over-the-counter anti-inflammatory medication can also be helpful too."
However, serious injuries such as fall-related fractures or torn knee ligaments caused by sudden or awkward movements are also being reported. Older adults may discover they are at risk for shoulder injuries, due to a strained or even torn rotator cuff ligament, which can be aggravated by overuse or unfamiliar movements.
"It's important, especially if you are new to a sport, to ease into it and limit the amount of time you give yourself on the court," says Dr. Fester. "Warming up beforehand and stretching, and even taking lessons to make sure you are using proper form can really go a long way to reduce your risk of injury."
It is also crucial to use wise judgment long before you decide to lace up your gym shoes. Take the time to consult with a health professional to assess your current health, especially if it has been a while since your last physical activity. Lastly, pickleball is a fun, social event, which can involve alcohol. Choose to limit or abstain from any alcohol consumption prior to or during your time on the court.
"Everything in moderation is good advice for many things, but it definitely applies here," says Dr. Fester. "If you consume too much alcohol before playing, it can impair your judgment and your movement, which can lead to serious injuries."
Find Your Perfect Match
Answer a few questions and we'll provide you with a list of primary care providers that best fit your needs.
Source: Eric Fester, MD, Premier Orthopedics