Stay Connected With Dementia Patients During COVID-19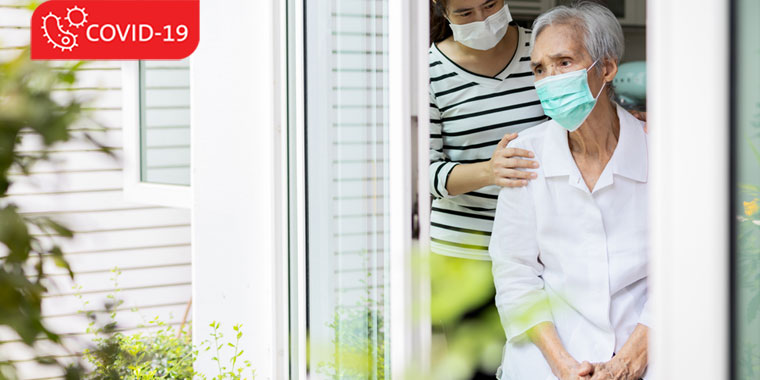 In spring 2020, Ohio's nursing homes isolated themselves to protect patients from the coronavirus. The strategy kept the state's death rate in long-term care facilities relatively low, but it also has taken an emotional toll on people with dementia and their loved ones. Unable to touch or see each other face to face without barriers, family members have sought new ways to make meaningful connections.
"Separation from loved ones in nursing homes can lead to sadness, guilt, resentment, and other negative emotions. Try to focus on activities to stay engaged with family members despite the quarantine," recommends Christopher Janson, MD, neurologist with the Clinical Neuroscience Institute. "For example, families can make art or gifts for loved ones, and either share these gifts with them in person when it is possible to do so, or send them to the nursing home."
Other ideas are to send photos, a pretty card, or something the person can experience through touch, smell, or taste.
Smartphones and other electronic devices can help people communicate virtually. Often, a caregiver at the nursing facility or memory unit will need to assist the individual who has Alzheimer's disease or dementia.
Music can be another point of connection. "Some patients respond well to music. Maybe sing a song or play a familiar tune they like and send them the recording," Dr. Janson says. Whether you send a song or a story, your voice can be comforting, he notes.
"On the bright side," he says, "patients with advanced dementia perceive the passage of time differently, and may not be troubled as much as their relatives who miss them."
For those who need medical care, consultations with a doctor have become easier through the use of telehealth video visits.
Dr. Janson comments, "Many routine doctor visits for dementia care can be done effectively via telehealth. It is a very useful tool that has gained wide acceptance after COVID-19 created new barriers to in-person visits. Many areas of neurology, including cognitive and behavioral neurology, are adopting teleneurology."
Caregiving At Home
Spouses or adult children taking care of a person with Alzheimer's at home also face additional stress and strain from the threat of coronavirus.
Additional duties include implementing social distancing and handwashing for people who cannot do it for themselves.
Dr. Janson advises, "It is very important for caregivers to have outlets for stress relief. Caregivers should make it a priority to take personal time for self-care, hobbies, and normal social interactions when looking after a dementia patient at home – whether or not COVID is also in the picture. This will make them happier and more capable of being an effective caregiver."
The Centers for Disease Control and Prevention (CDC) offers these suggestions for caregivers at home:
Get adequate sleep and regular exercise. Take a walk, stretch, or do some deep breathing as simple ways to relieve stress.
Set a routine for meals, sleep, and exercise. This can be comforting to both you and your loved one. Schedule an activity you enjoy every day, or at least every week.
Take a break from the news and social media. Our 24-hour news cycle can be overwhelming and stressful.
Connect with family and friends. Zoom calls, visits outdoors, or in-home visits with a close family member can help lift your spirits and relieve the strain of caregiving.
Find a local online support group. It's comforting to know you are not alone and that other people are experiencing similar struggles.
Make plans for a backup caregiver. If you become ill with COVID-19 or some other ailment – or even if you just need a break – it's important to know who you can call to provide your loved one's care in your absence.
The CDC also advises calling your health care provider if stress and anxiety are making it difficult for you to perform your daily activities several days in a row.
Source: Christopher Janson, MD, neurologist, Clinical Neuroscience Institute; Centers for Disease Control and Prevention