Telehealth: Visit Your Doctor Without Leaving Home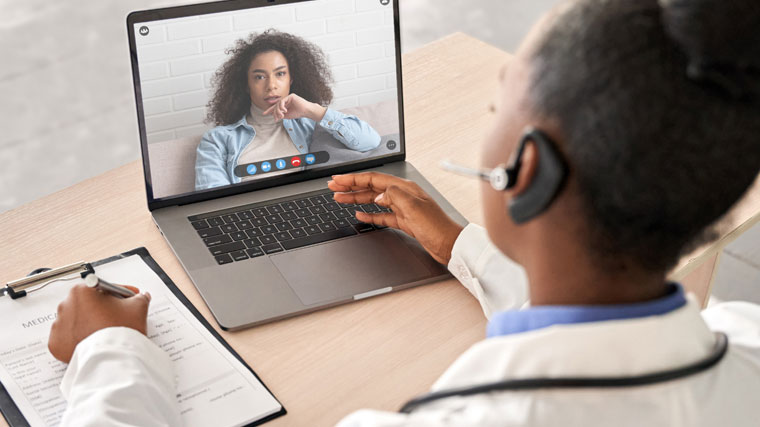 Find Your Perfect Match
Answer a few questions and we'll provide you with a list of primary care providers that best fit your needs.
When an in-person visit with your health care provider isn't convenient, a telehealth visit can be the perfect alternative. It's a visit with your doctor via your computer, your cell phone, or another device that takes place while you are at home or another location.
Although telehealth has been around for years, it became especially popular during the COVID-19 pandemic when social distancing became necessary. Telehealth has also proven to be an excellent alternative for the elderly or anyone who has difficulty travelling to and from their doctor's office.
And telehealth visits are effective for visits with social workers, mental health and nutrition counselors, and anyone whose job it is to educate you about your health.
If you aren't familiar with videoconferencing devices ask a family member or friend for assistance.
Conditions Ideally Suited To Telehealth
In addition to patients who have difficulty travelling to their provider's office, telehealth visits can be ideal for patients:
Who are sick and don't want to spread germs to others in the doctor's office
Who want to avoid potential germs at the doctor's office (such as COVID-19)
With chronic diseases whose visit is intended to monitor their condition. A telehealth visit allows you to talk with your provider about lifestyle changes to help manage your condition, such as weight loss, diet, and exercise, and anything else that doesn't really require an in-person meeting.
With conditions that can be diagnosed by discussing symptoms, or by examining via a computer monitor (such as a skin rash)
Whose appointment is for counseling (such as nutrition, mental health)
Telehealth is not ideal for conditions like an earache, which requires an examination, or a urinary tract infection, which requires a urine sample.
If you have an upcoming appointment, or wish to make an appointment, discuss with your provider whether your visit can be handled via telehealth. Your insurance provider typically will consider a telehealth visit the same as an in-person visit.
Preparing For Your Telehealth Visit
Before your appointment, ask someone at your doctor's office to explain the steps to connecting with your health care provider via telehealth. If you're not certain you have the necessary electronic device for a successful visit, be sure to ask.
If you have a caregiver or someone who frequently assists you, it can be helpful for that person to be present during your telehealth visit. Before your telehealth visit, prepare by jotting down questions you want to ask and be ready to take notes during the visit.
Other Uses For Telehealth
In addition to virtual visits with your health care provider, "telehealth" also describes:
Devices that allow your provider to remotely monitor things like your blood pressure, heart health, blood glucose, vital signs, and sleep patterns
Communications through MyChart
Viewing videos to educate you about your condition, (such as how to use an inhaler)
Find Your Perfect Match
Answer a few questions and we'll provide you with a list of primary care providers that best fit your needs.
Source: MedlinePlus (U.S. National Library of Medicine)