Sports Physicals: Who, What, Where, and Why?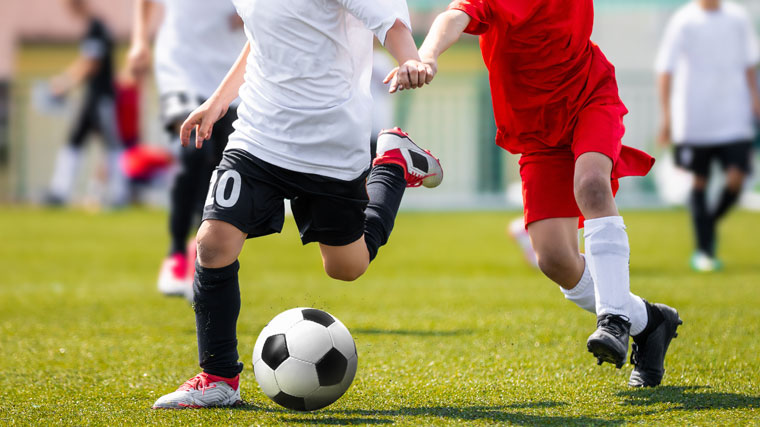 Find Your Perfect Match
Schedule a sports physical with a Premier Physician Network provider near you.
Before participating in sports, most young athletes are required to have a physical exam, sometimes called a pre-participation exam. Parents often wonder: Where can my child get one? What takes place? How is it different than a wellness exam? Pediatrician Joel Wehrmeyer, MD, and advanced practice provider Brittany Jamison, MSN, APRN, FNP-C, provide answers.
Who Needs One?
Most children and teens must pass a physical before they are able to begin practicing for a sport. The physical, a requirement in most states, ensures that your child doesn't have any abnormalities that could put them in danger as they play.
Parents are a part of the process, explains Dr. Wehrmeyer. "The necessary forms usually include questions regarding the child's health history and the family's health history. A parent's answers provide us with a lot of important information," he says. "If there's a family history of stroke, fainting while exercising, or sudden death, for example, we'll want to look deeper to ensure the sport won't trigger a health issue."
What Happens During a Sports Physical?
To determine if your athlete is physically able to participate in the sport, Jamison says, "we'll look at their musculoskeletal health, the joints, strength, flexibility, posture. We assess their current fitness level," she says. "And we review any preexisting injuries or health issues to determine if they could get worse while playing the sport." A discussion about preventing injury might also be included.
The exam includes checking your athlete's:
Weight and height
Blood pressure and pulse
Vision
Heart, lungs, abdomen, ears, nose, and throat
"We sometimes find issues that require more follow-up," says Jamison, "like a heart murmur, skin condition, or wheezing for example. In these instances we'll refer your child to your primary care provider, or if you don't have one, we can even make an appointment with a provider before you leave our office," she adds.
Is the Annual Wellness Exam Still Necessary?
"Absolutely yes," says Dr. Wehrmeyer and Jamison. In addition to a thorough physical exam, a wellness check-up includes necessary vaccinations and conversations about emotional and mental health. It includes a review of your child's current conditions, but also a look into the future to determine how to keep such conditions from worsening, and how to prevent related issues from developing.
"Parents can save themselves a trip by having both the wellness exam and the sports physical done at the same time," Dr. Wehrmeyer suggests.
Where Should I Schedule a Sports Physical?
Ideally your child's pediatrician or primary care provider should perform the sports physical. They know your child's medical history and will already be aware of any family medical issues that may cause concern.
Or you can make an appointment at any of the convenient Premier Health Urgent Care locations, which provide sports physicals.
Before heading to your appointment, check to be sure the office is taking appropriate safety measures to protect you from COVID-19. Jamison also suggests checking with the coach or your team's website to be sure you have the correct forms to be completed. While many Ohio schools use the same form, some organizations have their own, she cautions.
Find Your Perfect Match
Schedule a sports physical with a Premier Physician Network provider near you.
Source: Joel Wehrmeyer, MD, Premier Health Pediatrics of Huber Heights; Brittany Jamison, MSN, APRN, FNP-C, Premier Health Urgent Care