New Emergency Department Provides State-of-the-Art Care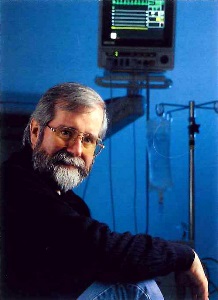 On March 21, Mark King was at his Vandalia home when he began experiencing chest pains. He though he was suffering a heart attack. Vandalia EMS transported Mark to the Shaw Emergency and Trauma Center.
"I didn't want to go to the emergency room," he says. "My anxiety increased when I began to think of all the things I had heard about overcrowding in area emergency rooms. But once I arrived at Miami Valley, my anxiety was wiped away. The staff took great care of me and reassured me that I was a priority."
After several tests, physicians determined Mark's condition didn't require further treatment. "I can't say enough good things about my experience," Mark says. "I had a private room. The staff was accessible and I was very comfortable. The new ER is a gorgeous facility and is definitely state-of-the-art. I keep telling my co-workers, 'If it's an emergency, go to the Valley."
The Shaw Emergency and Trauma Center is named in honor of Miami Valley Hospital benefactors, Harold and Mary Louise Shaw. Sadly, Mr. Shaw passed away just month before the 48,000 square foot facility opened in November. Mr. Shaw left the single largest bequest in MVH history to fund construction, equipment and furnishing for the new emergency center. The Miami Valley Health Foundation hosted a gala in celebration of the center's completion, and the Shaw's generosity. The event raised $55,000 for the new facility.