Saranda Manning, MS, APRN, ACNP-BC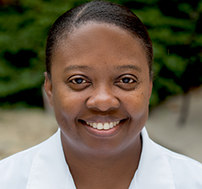 Saranda Manning earned her Master's of Science Degree in Acute Care Nurse Practitioner from Wright State University, Dayton Ohio, in 2010. She has been with the Clinical Neuroscience Institute (CNSI) since 2013 as a Certified Nurse Practitioner (CNP). In her role as a CNP, Saranda has continually provided care to patients with Neurological disorders and/or injuries in the Dayton Region. Prior to joining CNSI, she worked as a Certified Nurse Practitioner with the Miami Valley Hospitalist Group and the Miami Valley Hospital Neurocritical Care Service. She has been a part of The Clinical Neuroscience Institute team for two years.
Saranda is certified in Basic Life Support (BLS), Advanced Cardiovascular Life Support (ACLS), Emergency Neurological Life Support (ENLS), and NIH Stroke Scale Certification.