Danielle Whitsel, ACNP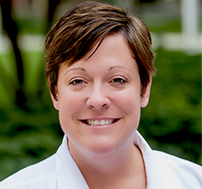 Danielle Whitsel earned her Bachelor of Science degree in Nursing from Wright State University in 2003. She practiced as an RN in Intensive care from 2003-2006. After 2006, Danielle practiced in the Emergency Department until 2011 and earned the CEN credential. She returned to Wright State University to earn a Master of Science Degree in 2010, and was board certified as and Acute Care Nurse Practitioner in 2011.
Prior to joining the Clinical Neuroscience Institute in 2013, Danielle worked as a Hospitalist nurse practitioner, evaluating and diagnosing acute and chronic conditions.
She is certified in Basic Life Support (BLS), Advanced Cardiovascular Life Support (ACLS), and Emergency Neurological Life Support (ENLS). Danielle has earned hospital credentials to intubate and place arterial lines.
Danielle is currently supporting the Vascular and Critical Care Neurology (VCCN) service at the Clinical Neuroscience Institute at Miami Valley Hospital.