Print this recipe
Strawberry Spinach Summer Salad
Servings:

6

Calories:

230

kcal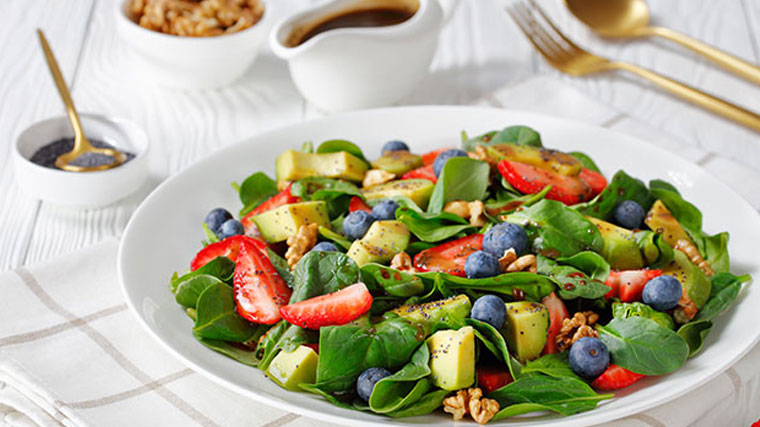 Enjoy the bounty of summer with this refreshing salad – as a side dish or main course. Try the recipe now!
Ingredients
Dressing
1/4 cup extra light tasting olive oil
1/4 cup white wine vinegar
1 tablespoon Dijon mustard
2 garlic cloves, minced
2 tablespoons granulated sugar
1/2 teaspoon salt
1/4 teaspoon pepper
1/4 teaspoon paprika
Salad
10 ounces fresh baby spinach torn into bite-sized pieces
1/4 small red onion, sliced
1 quart fresh strawberries, hulled and quartered
1/2 cup fresh blueberries
1/2 avocado, cut into bite-sized pieces
2-1/2 ounces light feta cheese
1/2 cup pecans
Instructions
In a mason jar, combine dressing ingredients. Seal and shake until well combined. Set aside on counter.
In a large bowl, combine the spinach, onions, strawberries, and blueberries. Pour about 1/2 of dressing over salad and toss. Top with avocado, cheese, and pecans.
Refrigerate salad for 15 minutes before serving (or serve immediately). Store dressing at room temperature.
Serve with the remaining dressing on the side. Shake well before using. Enjoy!
Notes
If you are making the salad ahead, wait to add any dressing until about 15 minutes before serving. This will help keep the spinach from wilting.
Add sliced grilled chicken for a fabulous summer meal.