Print this recipe
Portabella Pot Pie
Servings:

6

Calories:

410

kcal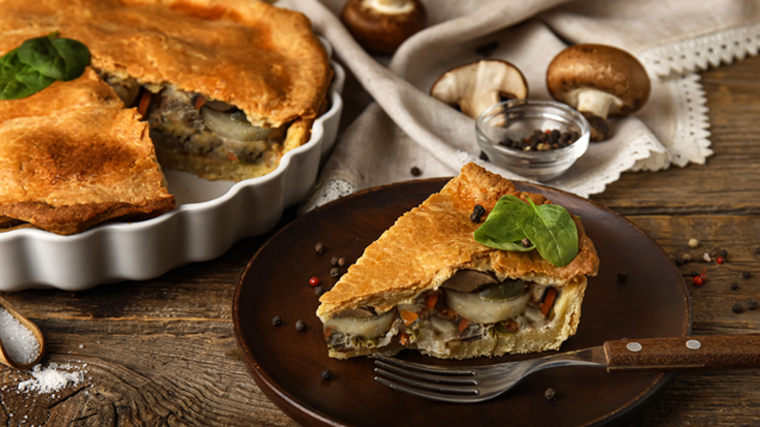 Warm up on a cold day with this heart-healthy, vegetarian dish – a twist on a classic.
Ingredients
Crust
3 cups flour
1 teaspoon salt
1/3 cup olive oil
3/4 cup cold water
Filling
1 cup cubed potato
1 cup sliced, peeled carrots
1 tablespoon olive oil
3 cups sliced portabella mushrooms
1/2 cup diced onion
1 teaspoon salt
1/2 teaspoon black pepper
1/2 teaspoon sage
1/2 teaspoon thyme
1 teaspoon rosemary
1/3 cup white wine
1/3 cup flour
2 cups low sodium vegetable or chicken broth
Instructions
Make crust: Whisk flour and salt. Add olive oil and mix until crumbs form. Add cold water as dough is stirred until it forms together. Knead over floured surface. Form into a ball and refrigerate for one hour. Split in half and roll out the bottom of the pie. Place into the pie dish.
Heat oven to 425 degrees Fahrenheit.
In a pot, add potatoes, carrots, and 1 cup water. Cover and let simmer for 8 minutes until softened.
Add olive oil to the pot, along with the mushrooms, and onions. Cook to soften (about 5 minutes).
Add seasonings of salt, pepper, sage, thyme, and rosemary.
In a separate bowl, whisk white wine and flour together, add mixture to the pot and cook for about a minute.
Add chicken broth to the pot and bring to a boil. Simmer until thickened.
Add the mixture into the crust-lined pan. Place the top layer of crust over the pie and slit the top crust.
Bake for about 45 minutes until bubbling. Kathleen Curran
BS, Dietetic Intern