Strength, Stability Exercise Can Help Avoid ACL Re-Tear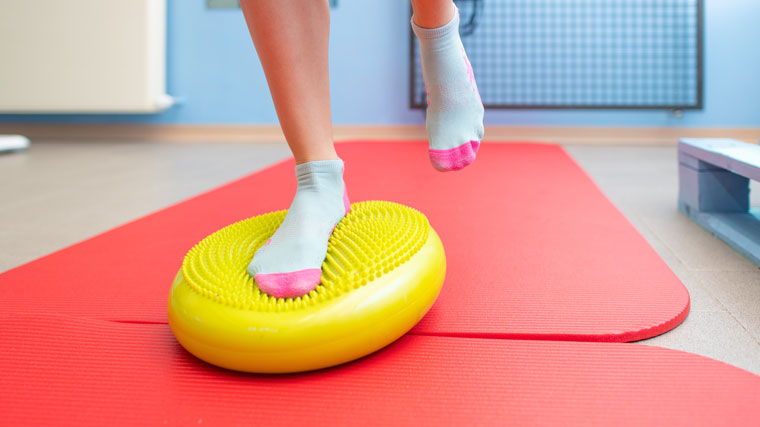 Find Your Perfect Match
Answer a few questions and we'll provide you with a list of primary care providers that best fit your needs.
For athletes and workout enthusiasts alike, an anterior cruciate ligament (ACL) injury can be a real concern.
The ACL is one of four main ligaments that connect the femur (thigh bone) and the tibia (shin bone) in the knee joint, according to the National Institutes of Health (NIH).
The ligament is in the middle of the knee and keeps the shin bone from sliding out in front of the thigh bone.
The ACL can be torn completely or partially by overstretching the ligament. According to the NIH, some examples of how this could occur include:
Taking a hard hit to the side of the knee
Non-contact injury

Overextending the knee joint
Stopping movement quickly to change directions while running, turning, or landing while jumping
Once the ACL has been reconstructed and the athlete has returned to play, it is possible for someone to suffer a re-tear.
According to research presented at the 2016 annual meeting of the American Orthopedic Society of Sports Medicine (AOSSM), the graft size on the first injury, age, and sex all have a significant effect on the likelihood of an ACL re-tear.
Women younger than 25 whose ACL was repaired with a hamstring graft less than 8 mm in size have an increased risk of re-tearing their ACL, according to the AOSSM.
The AOSSM research also found that pre-disposing factors that could also contribute to the risk of ACL re-tears include:
Anatomical differences
Decreased knee strength
Estrogen levels
To help avoid re-tearing the ACL, the AOSSM recommends that young, female patients with ACL tears receive counseling about their increased risk of re-injury.
No single exercise can help prevent ACL injuries, but strength and endurance training for the lower body can help promote stability, according to the American Council on Exercise (ACE).
Current ACL injury prevention programs focus on nerve and muscle control in the knee, according to the AOSSM. They use plyometrics, balance, strengthening, and stability exercises.
Preparing for each sport you play also can help avoid ACL injuries. For some sports, including basketball, tennis, and skiing, at least four weeks of endurance training before the season begins can aid in prevention, according to the ACE.
Prevent Injury, Enhance Performance Program (PEP) also have become common to help athletes avoid ACL injury and re-injury, according to the American Academy of Family Physicians (AAFP). These programs combine stretching, strengthening and agility exercises to help stabilize the knee.
Just like with any new or changed exercise routine, talk with your doctor before starting a new program for ACL re-tear prevention.
For more information about avoiding ACL re-tears, talk with your sports medicine or orthopedic doctor or visit our Orthopedics page to find a physician.
Find Your Perfect Match
Answer a few questions and we'll provide you with a list of primary care providers that best fit your needs.