When Homeschooling Your Kids, Be a Parent First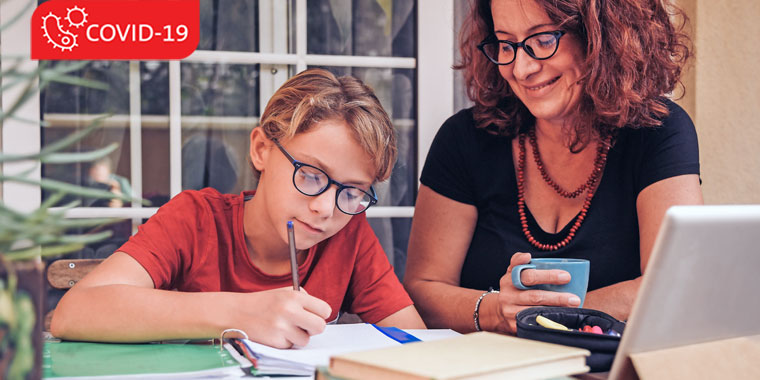 If you're suddenly in the role of homeschool parent, take a deep breath. Your child's teachers don't expect you to replicate the at-school experience.

Focus instead on finding ways to give your child nuggets of constructive learning time each day, say the specialists at Samaritan Behavioral Health. Take it one day at a time. Your primary role remains as parent during the coronavirus (COVID-19) pandemic.

Many schools are providing packets of work. Others are following daily schedules with real-time online classes. Use what's provided.

You can also access a wealth of free educational materials online from sites like PBS and Scholastic. If your child has a special interest, odds are you can find fun online activities or lessons:
Provide Support And Ask For Help When You Need It
All of this information can be overwhelming and hard to manage. When you or your child needs help or has questions, reach out to teachers, the principal, even other parents.

Keep in mind that virtual school is new for teachers, too. Educators were asked to completely redesign their teaching methods in about a week.

Allow your child to be responsible for his or her work. If school was open, children would be in class without Mom or Dad reminding them of each assignment. Provide support to your children when they need it.

Recognize the signs of stress or anxiety in your child. A refusal to do work may be a response to stressful feelings or missing friends and routines.
10 Ideas To Keep You And Your Child Focused
Samaritan Behavioral Health provides these tips for promoting calm while staying safe at home:
Get up and get dressed for the day. Getting dressed for the day helps mentally prepare you and your child for the day's activities.
Follow a daily schedule. Routine is helpful and important. Include school assignments and household chores. Meal planning and doing laundry are learning opportunities, too.
Keep in contact with the teachers and school. Check emails every day.
Make time for play and physical activity. Go for a walk, have a dance party, play catch in your backyard, do yoga.
Be intentional about screen time. Allow time on devices, for TV or video games separate from screen time needed for school. Cell phones provide a way for your children to maintain social connections. Family movie or TV time is a way to connect rather than zone out.
Make and eat healthy meals and snacks. Meal planning and cooking are also good teaching moments.
Take breaks. Your child can only do schoolwork for so long. When your child starts getting frustrated, becomes emotional or makes excuse to get up from his work area, it's time for a break.
Take care of yourself. If you don't feel well or motivated, neither will your child. Make time for yourself and stick to your regular exercise routine.
Take a mental health day. Being stuck at home during this unusual time can be stressful. If you or your child needs time to rest and recharge, take it.
You don't need to be perfect. Get support from family and friends. Ask for help from teachers, church leaders and area community leaders.
More Online Resources For New Homeschool Parents
Your child's teacher probably recommended a few sites to check out. Here's a few we like, too. Try some of these activities for yourself. You may have more fun than your child – and you'll both gain new knowledge.
Source: Samaritan Behavioral Health