Tame Work Stress for Your Good Health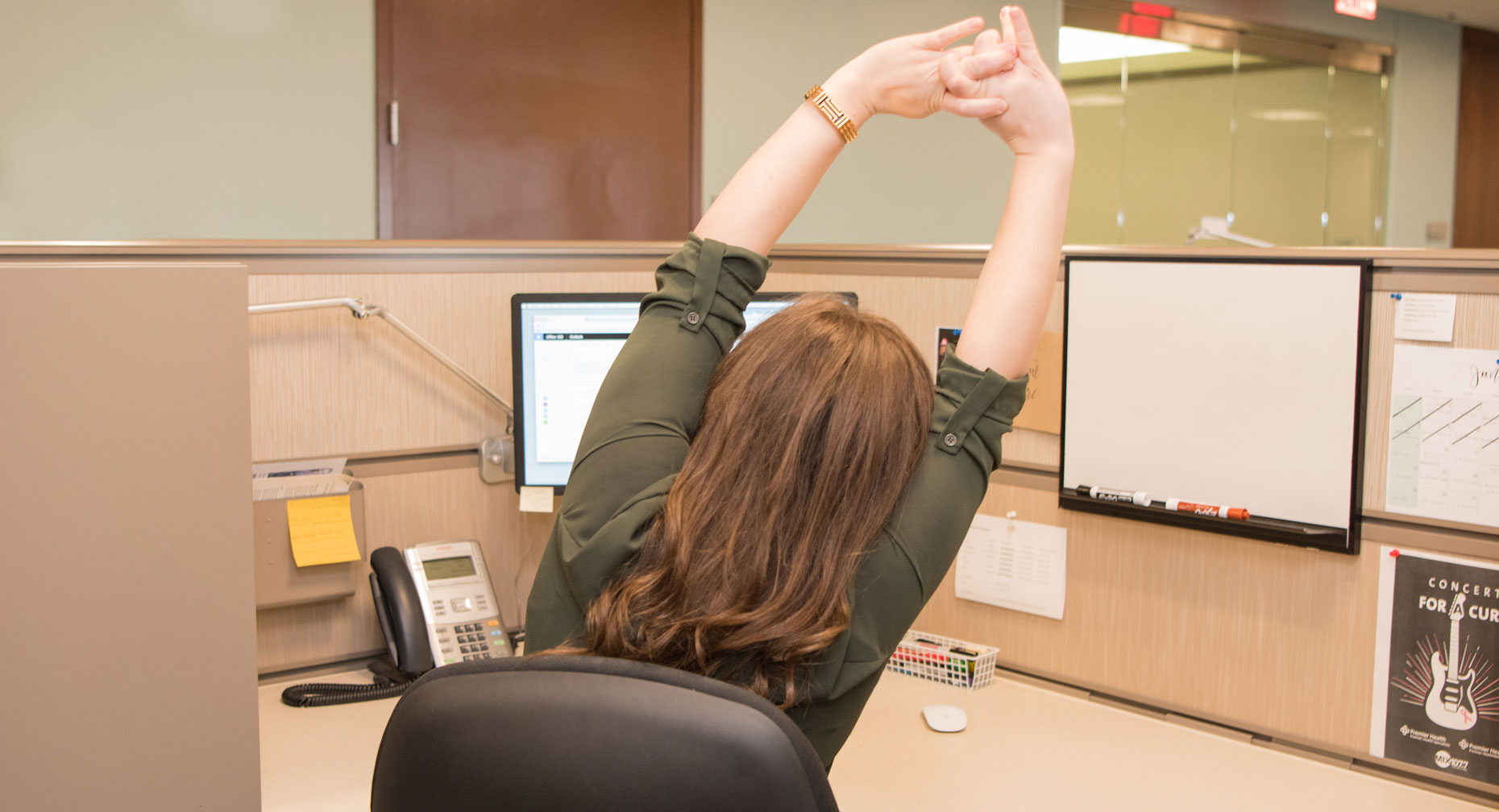 Find Your Perfect Match
Answer a few questions and we'll provide you with a list of primary care providers that best fit your needs.
Too much responsibility with too little authority. Angry customers. Unreasonable deadlines. Work that isn't engaging. Unproductive meetings.
On-the-job scenarios like these can send your stress through the roof. And too much stress for too long can have scary consequences like high blood pressure, headaches, heart disease, difficulty sleeping, anxiety and muscle pain.
If you can't quit your job, then it's crucial you learn how to handle the stress before it gets the best of you.
Set Some Serious Boundaries
Resist the urge to be continuously plugged in. That means don't check your emails once you leave your workplace, and let after-hour phone calls go to voicemail.
"The more negative and pessimistic you are, the less equipped you'll be to handle the stress that comes your way"
Respectfully set boundaries with your supervisor by asking for her help in developing a plan for managing the stress. This isn't a complaint session. It's a way to identify how you can do your best work. The plan may include:
Clarifying what's expected of you
Ideas for improving time management skills
Identifying others who can share the workload
Enriching your job to include more meaningful tasks
Changing your workspace to improve comfort
Reviewing what can realistically be accomplished in a typical workday
Beth Esposito, MS, LPCC-S, LSW, Samaritan Behavioral Health, suggests saying something like this to your supervisor if it's applicable: "I am finding these working conditions overwhelming and out of balance. I am becoming less productive because I'm so stressed. I need your help developing a plan of action that will make this work situation better."
If your boss assigns you a big project, Esposito recommends that you "make sure you are crystal clear on the overall expectations of the project. Big projects can become a mess if ongoing communication is not good, and it could result in people doing things they don't even need to do," she says.
Make a Plan and Stick With It
You've got a set number of hours to get the work done, and you can only do one thing at a time (even if your supervisor thinks otherwise!). Compile a list of what needs to be done, then prioritize it. Include a block of time for answering emails and returning phone calls. At the start of the day begin working down the list. When the clock signals the end of your workday, leave!
Put Your Health at the Top of the List
You'll be a better employee, family member and friend if you're healthy in body and spirit. Incorporating these practices into your workday will help you deal with your stress in a healthy manner.
Because exercise reduces stress, set an alarm as a reminder to exercise or stretch several times during the workday. A good stretch is to sit comfortably, relax muscles and breathe deeply. One by one, tighten a muscle group, hold for five seconds, release. Start with the face muscles and move all the way down to your toes.
A healthy diet may reduce stress; an unhealthy diet may increase stress. Plan accordingly.
Use lunchtime and breaks for unplugging. And use every vacation day available to you. Switch off completely by refusing to check email.
If you have the time, find a quiet spot to completely relax and recharge during your lunch break. Sitting in your car listening to meditative music can be a great mood booster.
It Matters Who You Hang Out With
Hang out with co-workers who are fun, interesting and don't use breaks to complain about work. Esposito warns that if you develop a habit of hanging around with chronic complainers and negative people, your brain can begin to think in that manner. Over time your brain develops that neural pathway of negative thinking without adding in any positives, Esposito explains, and that becomes your habit and eventually your character.
She cautions, "The more negative and pessimistic you are, the less equipped you'll be to handle the stress that comes your way because you automatically are thinking 'I can't do this job', or 'My boss doesn't know what she's doing,' or thoughts like that."
Reconnect and Do a Reality Check
Remind yourself of what you love about your job. Write down 10 good things about it. When we're stressed, we sometimes forget the good. A reality check may also be in order. Ask yourself, "What's the worst that could happen if I don't complete this project today?"
Find Your Perfect Match
Answer a few questions and we'll provide you with a list of primary care providers that best fit your needs.
Source: American Heart Association; American Psychological Association; PsychCentral; Beth Esposito, MS, LPCC-S, LSW, Samaritan Behavioral Health