Take Care With Your Take-Out Order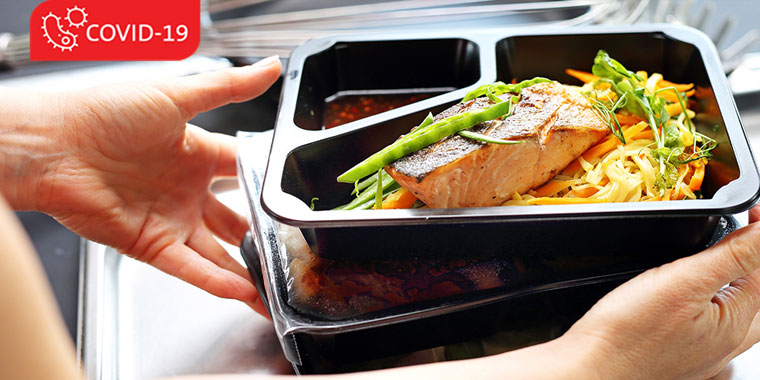 It's more important than ever to make healthy choices when ordering take-out meals from local restaurants during the coronavirus COVID-19 outbreak. Yes, we want to support our economy, but we also need to support our immune systems.

As Ohioans hunker down at home to stop the spread of the virus, we asked Premier Health dietitian Christina Sunderman, MS, RDN, LD, about making nutritious meal choices when placing to-go orders.

Sunderman advises that a good rule of thumb is to incorporate all food groups in your order. That means including:
Fruits (apples, berries, oranges, strawberries)
Grains (brown rice, whole wheat pasta, whole grain bread)
Low-fat dairy (milk or yogurt)
Protein (fish, chicken, lean meat)
Vegetables (broccoli, carrots, spinach)
"And make sure you understand menu descriptions," she says. Some suggestions:
Ask for dressings and sauces on the side, to control your portion
Avoid or limit high-calorie, high-fat, fried and breaded items, often described as battered, cheesy, creamy, and crispy
Choose healthier items that are labeled as al fresco, baked, grilled, roasted, or steamed
Drink water, low-fat or fat-free milk, or unsweetened coffee or tea
Opt for fruit, salad, or steamed vegetables as a side item
When you arrive home with your take out order, follow the universal precautions and wash your hands before serving the food.

Sunderman advises that eating is about more than the food. "Sit down together as a family to eat. Spending time together can calm fears and make everyone feel better," she says.

Another important tip: "Don't eat out of the containers," Sunderman recommends. "Instead, plate the food so that you eat a more appropriate portion size. Divide your plate into fourths and fill each section with fruit, grains, protein, and vegetables.

"Be sure to place any leftovers into an airtight container and refrigerate for later.
Healthier To-Go Options
We are living in uncertain and stressful times, confined to our homes. "Comfort foods like typical take-out fare — such as burgers, fries, and pizza — are OK every now and then," Sunderman says. To keep your spirits up and your health at its best, she recommends these healthier take-out options:
Chinese food

Starters: Hot and sour, wonton or egg drop soup. These low-calorie broths are low in calories and full of spices.
Main dishes: Ask the restaurant to use less oil in preparing your meal. This can save 135 calories and 15 grams of fat for every tablespoon of oil. Wok cooking with minimal oil is a healthy food preparation method.

Mediterranean food

Starters: A Greek salad with tomatoes, cucumber, onion, and feta or a grilled protein appetizer such as grilled octopus or calamari
Main dishes: Kabobs (chicken, beef, or lamb) are a protein-packed pick. Consider sides like horta (boiled leafy greens) and gigantes (large lima beans) in tomato sauce.

Mexican food

Starters: Flavorful black bean or tortilla soups fill you up with less than 200 calories a cup.
Main dishes: Choose combinations of lean proteins and vegetables, such as grilled chicken, shrimp, or lean beef fajitas with peppers and onions. Try for a whole wheat tortilla. Guacamole is OK in moderation. A healthy serving size is between 2 tablespoons and a 1/4 cup.

Thai food

Starters: Tom Yum soup with chicken, shrimp, or tofu, green papaya salad or summer rolls (vegetables and a lean protein in rice paper).
Main dishes: Basil chicken. If you order pad Thai, ask for extra vegetables, such as broccoli or peppers.
Source: Christina Sunderman, MS, RDN, LD, Miami Valley Hospital; Premier Health Dietitians, Academy of Nutrition and Dietetics, New York Post