Addressing Kids' Fears About Coronavirus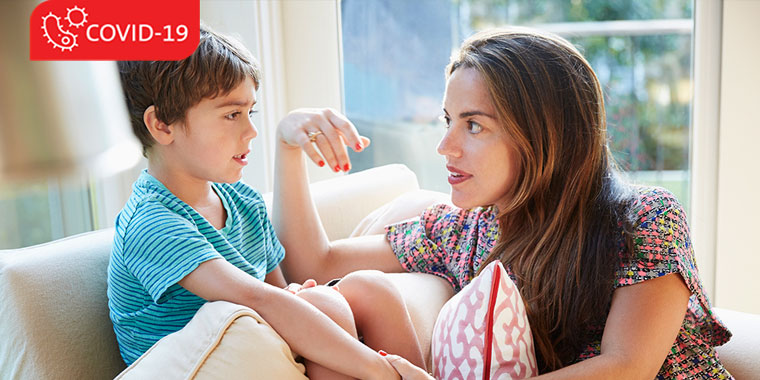 As communities across Ohio close schools, cancel sporting events, and restrict large gatherings to slow spread of coronavirus, COVID-19, it's not surprising that children have their own fears and anxieties about the virus.

Premier Health Now talked with child and adolescent psychiatrist Mark Casdorph, DO, Upper Valley Outpatient Behavioral Health in Troy, Ohio, who offers advice on how to talk to children about the coronavirus and its effects.

"Parents shouldn't be afraid to discuss the coronavirus. If you avoid talking about it, that significantly increases kids' anxiety," Dr. Casdorph says.

Before you start a discussion, he counsels, take a deep breath and get your own anxiety under control.

Then, ask your child what he or she has heard about the virus and gear your response to that level of understanding.

"Those as young as age 4 or 5 will likely know something," he says. "Teens and preteens will be talking to their friends. Reassure your children that it's OK for them to tell you what they are feeling and that you will answer them honestly."

Say things like, "They're working on a shot to help prevent it, like the flu shot, but we don't know yet when it will be ready." Let children know that normal activities may change to reduce the chance of getting the virus.

Emphasize what you as a family can do to protect yourselves:
Wash your hands before and after eating, after blowing your nose, coughing or using the bathroom, and after visiting a public place.
Keep your hands away from your face.
Move away from people who are sneezing or coughing.
If you are sick, cough or sneeze into the crook of your elbow or into a tissue.
He concludes, "It's important to remember that the virus isn't anyone's fault. Anybody can get this. It's transmitted quickly, but the vast majority of people aren't getting that sick, especially younger people."
Source: Mark Casdorph, DO, Child and Adolescent Psychiatrist, Upper Valley Outpatient Behavioral Health