Study: Strength Exercise Can Lower Disease Risk, Lengthen Lifespan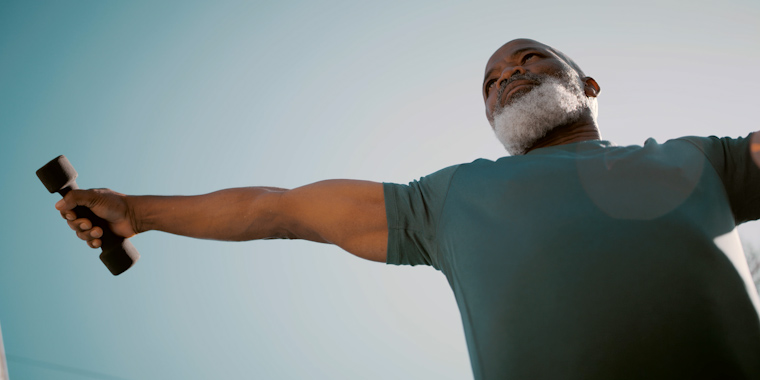 You can lengthen your life 10 to 20 percent, on average, simply by doing 30 to 60 minutes of strength training weekly. That's the finding of new research published in the British Journal of Sports Medicine. Further, by combining strength exercises with aerobic activity, you can lower your risk of premature death by 40 percent, heart disease by 46 percent, and death by cancer by 28 percent.
Premier Health Now learned more from certified strength and conditioning specialist Chris Cleverly, AT, CSCS, who is an athletic trainer with the Miami Valley Hospital South Sports and Human Performance Program.
Lifting weights isn't the only way to build strength, Cleverly says. "Weight isn't necessary when you're just starting. That can end in injury. As you get stronger, however, you can add weight for greater benefit." He adds that before beginning any exercise program, talk with your health care provider.
Cleverly explains that building strength by adding external force or extra resistance to exercises increases muscle mass, lowers body fat percentage, and regulates blood sugar more effectively. It also increases metabolism efficiency to burn more calories throughout the day and boosts your immune system.
He recommends three strength exercises to build healthy muscles in your own home:
Sit to stand. Sit in a chair with your knees bent at a 90-degree angle. Then, stand up and sit down 12 to 15 times. Rest and repeat for three to four sets. "This is one of the best exercises you can do for your lower extremities," he says.
Band pull-aparts. Hold both arms straight out in front of you, with each hand grasping the end of an elastic band. Pull the band apart so your arms form a T at your sides, and your shoulder blades pull together. Repeat 12 to 15 times, pause, and continue with three to four sets. Cleverly notes that you can buy bands online or in many stores that sell sporting goods.
Step-up. Step up with one foot and then the other onto a staircase or stool. Start with a 6-inch step and have something nearby to hold onto if you lose your balance. Repeat 12 to 15 times, with three to four sets. "This works on your glutes, quads, and balancing ability," Cleverly says.
He notes that fitness activities such as CrossFit, Pilates, and water aerobics all incorporate strength exercises that add resistance to muscles.
"This is something that can be done by everyone," Cleverly says. "If you have arthritis, movement helps push blood flow to the area and helps alleviate pain. Start light and progress." For optimal results, he says, combine strength exercises with aerobic activity and a healthy diet.

Sources: Chris Cleverly, Athletic Trainer, Certified Strength and Conditioning Specialist, Miami Valley Hospital South Sports and Human Performance Program; CNN Christopher Cleverly, AT