How Parents Can Manage Mental Stress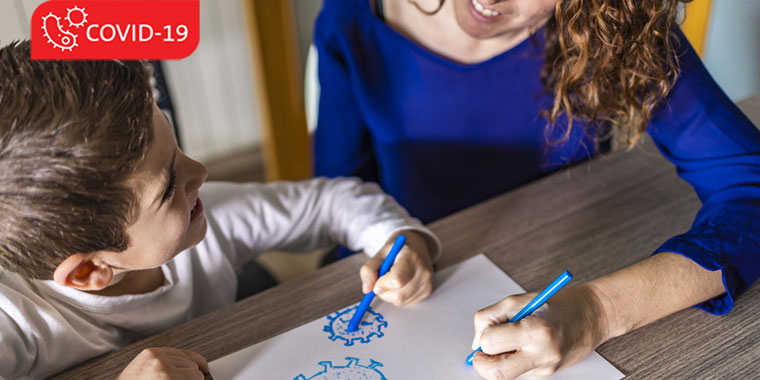 Find Your Perfect Match
Answer a few questions and we'll provide you with a list of primary care providers that best fit your needs.
As many parents attempt to work from home while also serving as pseudo homeschool teachers, stress and anxiety are on the rise.

You may be getting an up-close-and-personal look at what your child is like at school – and how much work teachers really do. You may also be juggling the needs of multiple children and adults — all who need space, a device, and a strong Wi-Fi connection to complete their assignments.

With schools staying closed for the rest of the academic year, what can parents do to handle these new responsibilities while taking time to meet their own needs? We talked with Lilah Findley, BSW, LSW, a therapist at Samaritan Behavioral Health's Young Children's Assessment and Treatment Services.

Findley shares ways parents can practice self-care and keep everyone healthy at home.
Keep the Lines Of Communication Open
"Point out and label your feelings and your child's feelings," Findley says. "This can help them be more aware of their feelings and know they are not alone in how they are feeling."

Here are two ways to do this:
Encourage video calls with friends, family, and teachers.
"Children might think that someone is sick with COVID-19 if they haven't seen them," Findley says. "It's really helpful for kids to see the people who are important to them and know that they are OK and still here for them."

Try taking on Ohio's Strive for Five Challenge, a statewide awareness campaign to help cope with feelings of stress, anxiety, and isolation. The challenge: identify five people in your life and check in with them every day for the next 30 days.
2. Read the "social stories" at ConsciousDiscipline.com together with your children.

These stories explain what's happening with coronavirus in simple ways that are easy for children to understand. After sharing the stories, use and complete the printable activity sheets.
Set Some Work Boundaries
Call a family meeting. Assign everyone a workspace. Discuss when mom and dad can be interrupted and when you can't.

"Kids are visual learners, so post signs if needed," Findley says.

Remind yourself that many other parents also are working from home. Keep your sense of humor. When (not if) your child runs into the room half-dressed and followed by your barking dog during your morning Zoom meeting, smile and enjoy the silliness of the situation.
Put Technology To Work For You
Speaking of technology, a recent Harris poll finds that 54 percent of parents increased allowable screen time to keep their kids occupied since the stay at home order went into effect.

Among parents with children living at home, any diversion seems worth a try:
70 percent boosted use of streaming services
65 percent expanded social media use
52 percent increased use of music apps
33 percent added more use of food delivery apps
28 percent elevated use of podcasts
Don't Forget To Be a Parent
Despite access to so many online tools, children still want time with mom and dad. The stress and uncertainty of the coronavirus pandemic may cause some children to regress, Findley says. This could mean a return to old sleeping patterns, problems with potty training, or simply being more sensitive.

"It can happen at any developmental age," Findley says. "Middle schoolers might act more like elementary kids."

While these changes can bring added stress for you, remember that they are one way your child is reacting to stress.

Remind yourself that despite your new roles as entertainer, on-demand chef, and school teacher, you are a parent first. Give your kids the love and support they need.
Take Care Of You
If you have school-age children, the 24/7 all-access-to-mom-and-dad life that is a hallmark of the quarantine can be an adjustment. To keep your stress in check, take regular breaks, Findley says.

Go for a walk or find a hobby, like coloring, that you can do for 10 or 15 minutes to calm yourself. Find ways to strengthen your relationship with your spouse or partner. Tune out the news.

If you need help or support, ask for it. You can find groups on Facebook, talk with close friends or family, or call your doctor. Many mental health professionals are now providing phone and video therapy sessions.

A good way to manage the work-school days is to follow a routine. Be sure to work some alone time for yourself into the day.

"Parents need time to recharge," Findley says.

She suggests a family break time where everyone spends quiet time apart and alone, and then reconnects. Set a timer to help children know when the break is over.

Children can read, listen to music, or work on a special project like making a quarantine time capsule.

Parents can take a short nap or use meditation or mindfulness apps. One that Findley recommends is Smiling Mind.

When the break ends, everyone can come together with a hug or special family greeting.

"By framing these strategies as ways to stay healthy during the virus outbreak, you are giving your kids an opportunity to take some ownership of staying healthy and safe," Findley says.
Stay Calm: Try These Helpful Links
Parents can feel mental stress from many directions while staying at home with their family. Findley recommends these resources.

For help with mental health issues:
For education assistance:
Dayton Metro Library. You can access many library resources, such as books, magazines, and movies.
Parent Help Desk at the Montgomery County Educational Service Center. If you need help contacting your child's school or assistance with online learning, email qualityservices@mcesc.org or call 937-225-4598 (ext. 3013). This service is for parents of students in Montgomery County public, private, and charter schools.
Find Your Perfect Match
Answer a few questions and we'll provide you with a list of primary care providers that best fit your needs.
Source: Lilah Findley, BSW, LSW, Samaritan Behavioral Health; American Academy of Pediatrics; Centers for Disease Control and Prevention