Blame COVID-19 For Spike In Eating Disorders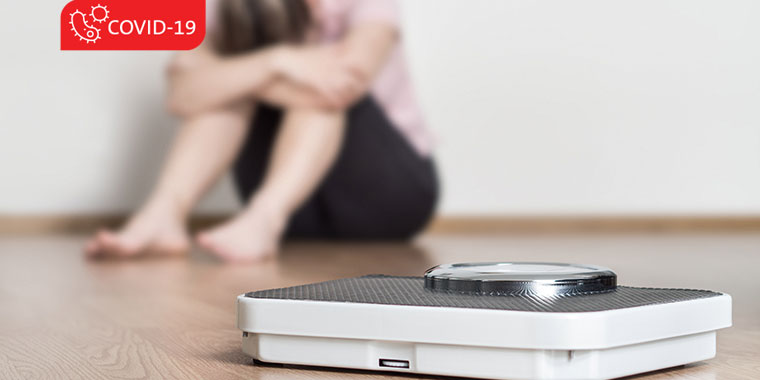 It's no coincidence that eating disorders are snowballing during the COVID-19 pandemic. Calls to the National Eating Disorders Association's Helpline are up 70 to 80 percent in recent months.
Psychiatrist Christina Waite, MD, Medical Director for Psychiatry at Miami Valley Hospital, understands why. Eating disorders are rooted in anxiety and in a fear that you are losing control, she says. "The pandemic understandably has all of us a little more anxious. In many ways it has taken control away from us; in our ability to travel, dine at restaurants, socialize, and exercise at the gym, for example."
If you have an eating disorder and your daily routine gets interrupted in such a big way, you look for something that you can control, says Dr. Waite. You already know that the amount of food you eat is within your control, and so your eating disorder flares.
Social Media's Role
For many, the pandemic has resulted in more time on social media. And for people with an eating disorder, that may not be a good thing. Dr. Waite cites two reasons:
Social media is a venue to exchange information with one another. If you have an eating disorder and you're spending more time chatting with others who have eating disorders, you may end up supporting each other in a negative way and perpetuating the illness.
Companies that prey on vulnerable individuals are rampant on social media. They're convincing people that foods can harm you, that you should replace some foods or food groups with supplements. Following their advice can lead to malnourishment, starvation, or overeating. Dr. Waite says these companies are partly to blame for the rise in ARFID (Avoidant Restrictive Food Intake Disorder), an eating disorder that has joined anorexia and bulimia in prominence in recent years.
Eating disorders not only affect you physically. "They also affect the brain," Dr. Waite explains. "When your body is malnourished, your brain shrinks, which causes distorted thinking and judgement." With proper nutrition, the brain can recover. "We often see dramatic improvement when people start to eat again. Their personality comes back," says Dr. Waite, who consults with patients on the medical and psychiatric units at Miami Valley Hospital.
Seeking Help
Tele-therapy is a godsend for many with eating disorders who seek treatment. "People with malnutrition are more sensitive to infection, with a lower immune system. Tele-therapy is safe and accessible," says Dr. Waite, and a good choice during the pandemic.
If you think you need help with an eating disorder, Dr. Waite encourages you to "be open to it, be informed with facts, manage your life, get enough sleep, spend time outside in nature, and get help."
If you have an eating disorder and are searching for help, Samaritan Behavioral Health provides services throughout Southwest Ohio.
Sources: Christina Waite, MD; National Public Radio; National Eating Disorders Association Christina Waite
Medical Director of Psychiatry at Miami Valley Hospital