Your Torn ACL: What To Expect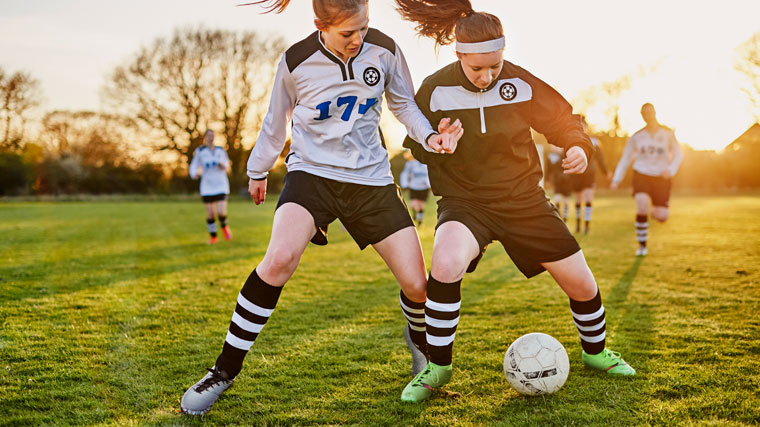 Your ACL (anterior cruciate ligament) runs through the middle of your knee. It keeps your knee stable and supports your knee when it rotates. If your ACL is stretched too much, it can tear. Women experience ACL tears up to nine times more often than men.
James Klosterman, MD, explains what happens when your ACL is injured:
Click play to watch the video or read video transcript.
ACL injuries are most common in sports like soccer, basketball, gymnastics, and football where you are more likely to sustain:
Hard hit to the side of the knee
Overextension of the knee joint
Quick stop and direction change while running, landing from a jump, or turning
When you injure your ACL you may hear a popping sound, and likely will experience swelling and pain in the knee.
The severity of your injury will determine if surgery is needed. A torn ACL won't heal without surgery. And partial tears of the ACL are rare. Most injuries are complete or near-complete tears, and require surgery in order to regain full function.
Non-Surgical Treatment
Nonsurgical treatment may be an option if your activity level is very low and if the overall stability of your knee is intact. In these instances, your doctor may recommend simple, nonsurgical options:
A brace to stabilize and protect your knee, along with crutches to prevent you from putting too much weight on your leg.
Physical therapy to help you regain function to your knee and strengthen your leg muscles.
ACL Surgery
The goal of any ACL surgery is a fully functioning knee with a minimal amount of pain.
"Most ACL surgery patients are active individuals under the age of 25, but we've done surgery on patients up to age 65," says Dr. Klosterman. In this video he explains who is a good candidate for ACL surgery:
Click play to watch the video or read video transcript.
When torn, most ACLs cannot be stitched back together. To surgically repair the ACL and restore knee stability, your doctor likely will recommend surgery to reconstruct your ACL.
In recent years the "all-inside" surgical technique has proven to be the most popular ACL surgery. It involves grafting one of your hamstring tendons or another leg tendon to reconstruct your ACL. Compared to the traditional method, the all-inside method requires less bone removal and just three or four very small incisions which may mean less pain and discomfort, and less scarring.
Recovering From Surgery
Dr. Klosterman describes what you can expect following surgery and when you may be able to return to your sport:
Click play to watch the video or read video transcript.
While resuming full daily function can take a matter of weeks following surgery, you can expect it may take several months to return to playing your sport.
What's Next?
In some instances, suffering an ACL injury can have a negative impact on your future health:
Women who suffer ACL injuries have a higher risk of developing osteoarthritis than women who have not had an ACL injury,
More than a third of ACL injury patients younger than 25 experience re-injury within two years of surgery.
Source: James Klosterman MD, Premier Orthopedics; American Academy of Orthopaedic Surgeons; National Institutes of Health; American Academy of Family Physicians